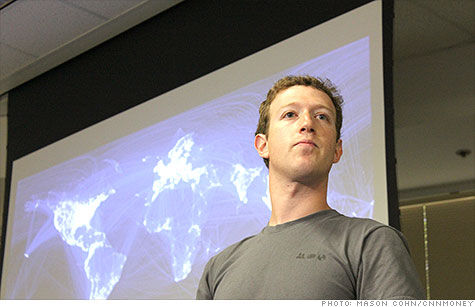 The second quarter was filled with drama for Facebook and CEO Mark Zuckerberg.
NEW YORK (CNNMoney) -- Facebook's first earnings report as a public company will be on July 26, a major milestone that could show how tough life can be as a grown-up company.
The quarter was filled with drama for Facebook. In May, Facebook went through a botched initial public offering. The stock slumped and there have been shareholder lawsuits over alleged improper financial disclosures.
Facebook (FB) shares plunged almost 23% in May, and managed to creep back up only slightly in June. The stock is still down nearly 19% from its May 18 offering price of $38, trading at just above $31.
Beating Wall Street estimates for the second quarter could help Facebook get its stock out of the basement. Analysts polled by Thomson Reuters currently expect Facebook to earn 12 cents per share on sales of $1.15 billion.
Several underwriters launched coverage of the stock last week. While the reviews were largely favorable, there are sill many concerns about the stock's valuation and Facebook's ability to make money off of mobile advertising.
A note was posted to Facebook's investor relations page Friday with little fanfare, saying the second-quarter figures will be released July 26, with a conference call at 2 p.m. Pacific Time. Facebook didn't respond to a request for confirmation. It is not yet known if Facebook CEO Mark Zuckerberg will take part in the conference call.
Whether or not Facebook beats analysts' projections, the company has to be happy to close the book on the second quarter.
Facebook's troubles began even before its first moment as a public company. The stock's debut on the Nasdaq was delayed by a half-hour due to technical problems on the exchange, which continued even when the shares began trading -- leaving many buyers in the dark about what they had bought and at what price they scored shares.
Nasdaq later issued a mea culpa, and agreed to spend $40 million to compensate trading firms for losses related to the glitch.
A few days after the IPO, a group of Facebook shareholders filed a lawsuit against Facebook, Zuckerberg, IPO underwriter Morgan Stanley (MS, Fortune 500) and other banks. The shareholders allege that important information about Facebook's financial outlook was "selectively disclosed" to big banks ahead of the offering.
The information involved specifics about Facebook's mobile revenue problems, which the company did disclose -- in less specific ways -- in a publicly available amendment to its IPO paperwork.
Facebook later admitted in a court filing to having "follow-up conversations" with analysts from the banks underwriting its offering. Those analysts, according to the plaintiffs, then "discussed their forward-looking forecasts with certain institutional investors."
But nothing illegal happened, according to Facebook. Similarly, Morgan Stanley has insisted that it followed "the same procedures for the Facebook offering that it follows for all IPOs."