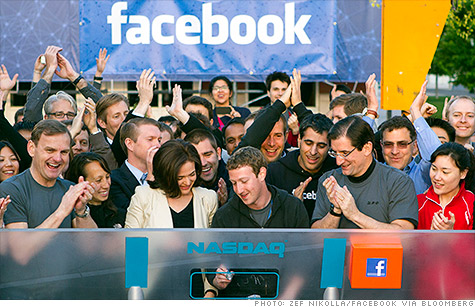 Nasdaq's systems failed to process some orders in the first few minutes of Facebook's IPO causing staggering losses for trading firms and investors.
NEW YORK (CNNMoney) -- Nasdaq said Wednesday that it plans to spend $40 million to compensate trading firms for losses caused by glitches that delayed Facebook's debut.
Firms would be eligible to receive $13.7 million of that in cash, with the remainder coming from reduced trading fees over the next six months, according to a Nasdaq statement.
Knight Capital (KCG), Citadel, Citigroup (C, Fortune 500) and UBS (UBS) were among the biggest firms to incur losses from Nasdaq's technical problems in the opening minutes of Facebook's trading on May 18.
All four firms declined to comment.
While Nasdaq's (NDAQ) board backed the $40 million plan, the exchange still needs the Securities and Exchange Commission to sign off. The SEC declined to comment.
Under SEC rules, exchanges like Nasdaq are prohibited from paying out more than $3 million for trading losses in any single month.
The $40 million payout falls far below what the four trading firms claimed to have lost because of Facebook's botched debut. Those losses could run as high as $200 million, according to some estimates.
Knight Capital, which was a major trader on Facebook's opening day, projected its losses would total between $30 million to $35 million, according to an SEC filing. Citadel lost roughly the same amount, according to a source close to the company.
Nasdaq said it came up with the $40 million repayment plan by adding up its $3 million SEC mandated limit, $10.7 million it earned from short positions on Facebook, and estimates of earnings from Facebook trading over the next five years.
The exchange plans to compensate firms for three types of trading issues: Orders to sell that were priced at $42 or less that didn't go through; orders to sell at $42 that went through at a lower price; and buy orders priced at $42 that weren't confirmed.
Firms have until June 20 to file their claims.
One big group still left twisting in the wind are the individual investors, who tried to buy, sell or cancel their Facebook trades through brokerages like Fidelity, E*Trade (ETFC) and TD Ameritrade (AMTD). Many of them are still waiting to hear how or if they'll be compensated.
In the trading pecking order, firms like Knight and Citadel are so-called market makers that trade with Nasdaq on behalf of the brokerage firms. Individual investors typically buy and sell through those brokers so they're at the bottom of the ladder.
Spokespersons from Scottrade and Charles Schwab said they are "reviewing" the details of Nasdaq's plan to determine how it may impact their firms. E*Trade declined to comment. Calls to Fidelity, TD Ameritrade and ING Direct's (ING) Sharebuilder were not immediately returned.
Rival exchange NYSE Euronext (NYX) quickly fired back, saying lowering trading fees would hurt competition.
"This is tantamount to forcing the industry to subsidize Nasdaq's missteps and would establish a harmful precedent that could have far reaching implications for the markets, investors and the public interest," the NYSE said in a statement.
Nasdaq also said it picked IBM (IBM, Fortune 500) to conduct a review of its trading systems.
Shares of Facebook (FB), which have dropped more than 30% from its IPO price, ended the day up 3.6% at $26.81.
-- CNNMoney's Hibah Yousuf contributed to this article.