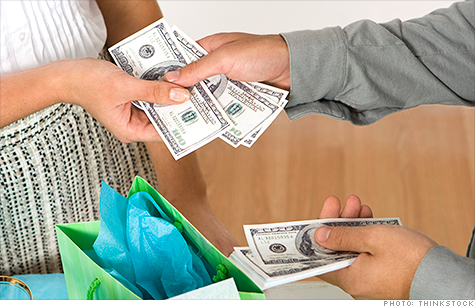 (Money magazine) -- You rarely make a fortune from running your own business. Most entrepreneurs take just enough out of profits to provide a livable income, plowing the rest back into the enterprise to keep it growing.
Instead, the big payoff comes if and when you sell: A sampler of median sales prices from the online marketplace BizBuySell shows that the typical restaurant went for about $125,000 last year, pet-care shops sold for $215,000, communications firms commanded around $700,000, while software companies got a cool $1.3 million.
A few smart moves early on can help push your eventual selling price into seven figures too.
Part of a special report on How to reach $1 million, this story explains how make your start up attractive to buyers -- and rake in the profits.
KEY MOVE: Hone your exit strategy from day one.
HOW TO GET THERE
Make it easy to pass the reins. Your venture will have greater intrinsic value if its success does not hinge on one person.
"If a business is all about me as an individual, no one will want to buy it," says Michael Eckton, managing partner of Crestwood Advisors, a Boston wealth-management firm that counsels many entrepreneurs.
For starters, don't name the company after yourself. And don't handle every aspect of the business by yourself.
Last year former advertising copywriter Ross Gordon, 29, launched CraftJack, a website to help home-improvement contractors generate leads.
One of his best moves, he says, was bringing in a top designer and programmer to help him develop a proprietary tool to help contractors manage those leads.
The result: In June he sold the site to a bigger company in the same field for what he says was a low-seven-figure sum. Notes Gordon: "A big part of the sale was getting our team."
Create a map for success. As you arrive at business systems that work well, write them down so that you can hand a how-to manual to your successor.
"You want it to be so idiot-proof that you could pull out your employees, replace them with someone else, and the process would still get done the right way," advises John Warrillow, author of "Built to Sell."
Diversify revenue streams. Buyers tend to pay more for a business that generates sales from subscriptions and service contracts than for one in which each dollar comes from selling something new.
Also off-putting: if revenues are heavily dependent on one or two key customers. "Instead of selling lots of stuff to a few people, you're better off selling one thing to a lot of people," Warrillow says.
Spruce up your digital presence. Your website is the first place buyers look, so avoid common pitfalls, like a dated design or unclear navigation.
Gordon believes that one reason CraftJack sold for such a high price was how well the site functioned.
Before selling, also eliminate unnecessary expenses from your books that may detract value -- say, having your son, who worked for you in the summer, listed on the payroll.
Says Roger Murphy, CEO of Murphy Business & Financial, a business brokerage: "Make sure your financial statements reflect what the new person will really make."
GETTING INTO GEAR
Get legal advice. A lawyer specializing in small business will help you structure the company. Whether you establish an S, C, or professional corporation can affect how much you pay in taxes and who can buy your business.
Line up a banker too. Know whom you'll turn to if you need a business loan. Don't default to your personal bank. Instead, get referrals from others in the biz to bankers familiar with your industry and type of company.
Beef up cash reserves. Have enough to cover a year's living expenses. If the venture hits a rough patch, you don't want to be forced into a move you'll regret to raise cash to tide you over, says wealth manager Evan Roth.