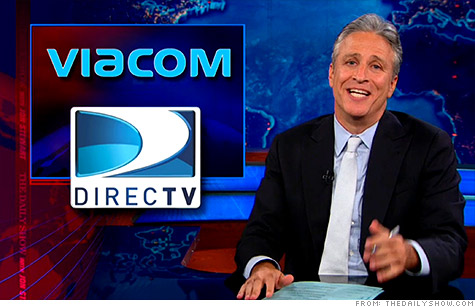 Viacom and DirecTV have hatched a deal and ended their programming blackout, so subscribers can once again watch Comedy Central's 'The Daily Show' with Jon Stewart (above), MTV's Jersey Shore, and more than a dozen other channels.
NEW YORK (CNNMoney) -- Viacom and DirecTV announced Friday that they have reached a deal, putting aside their dispute and allowing Viacom's programming to immediately return to the airwaves.
The agreement ends a fee dispute that had interrupted programming since July 10.
Viacom blacked out channels for 20 million customers of DirecTV (DTV, Fortune 500). Among the channels affected were Nickelodeon, Comedy Central, MTV, Spike and VH1. The blackout came as the companies hit the end of a seven-year deal without agreeing on terms for a new contract.
The companies did not provide a dollar figure on Friday for their new deal, but Nomura analyst Michael Nathanson published a note saying he believes that Viacom got a sizeable fee increase from DirecTV.
"We estimate Viacom implied domestic affiliate payment per household is in the area of $2.80 and DTV's old deal was in the area of $2.25 per sub per month," Nathanson wrote.
He thinks that Viacom (VIA) got at least 55 cents per month, per subscriber more from DirecTV, putting DirecTV's rates closer to the $3 per month that Viacom distributors pay on average.
Viacom said Friday that it was "extremely pleased to bring its programming back to DirecTV subscribers."
Throughout the impasse, the companies took acrimonious shots at one another, but on Friday they buried the hatchet. Their fee-fight websites, once filled crying cartoon characters and scathing attacks, were replaced with little more than the text of the press release announcing the deal.
Nomura analyst Nathanson said the deal "reinforces the power of Viacom's networks and brands, especially in the face of weak short-term ratings."
But tech analyst Jeff Kagan thinks there will be lasting fallout from the fight, one of the biggest of the industry's endless skirmishes. DirecTV is the second-largest television service provider in the country, behind Comcast (CMCSA), and Viacom owns eight of the top 30 cable networks.
The blackouts and disputes are a "longer term problem that will continue to jump up and bite us all, year after year until it is fixed," he wrote in a research note.
"The problem is customers want and expect a decrease in price and are continually disappointed," Kagan said. "The industry may be preparing to go through a big transformation over the next few years just like the wireless industry did with Apple and Google."
-Erin Kim contributed reporting.