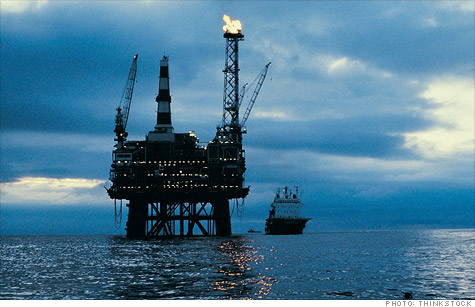 Canada's Nexen, with offshore operations in the U.S. and U.K., has agreed to be acquired by China's CNOOC for $15.1 billion.
NEW YORK (CNNMoney) -- A major Chinese oil producer expanded its footprint in North America's energy market with a $15.1 billion acquisition of a Canadian company.
Calgary-based Nexen Inc. said Monday that it has agreed to be acquired by China's CNOOC Ltd. in a cash transaction. The deal values Nexen (NXY) shares at $27.50 each, a 61% premium from Friday's closing price of $17.06.
Nexen's assets in North America include exploration and development in the Gulf of Mexico and shale oil development in British Columbia.
The company also has operations in the North Sea off the coast of Great Britain and off the coast of Nigeria.
Nexen said the deal will require the approval of regulators, including those in the United States. The deal is expected to close by the end of the year.
Shares of Nexen rose over 50% in early trading to within $2 of the proposed acquisition price.
The deal adds to string of recent North American energy purchases by Chinese oil firms.
In 2010, CNOOC (CEO) paid $2 billion for stake in Chesapeake's Texas oil fields. Last year, it spent $2 billion to purchase Canadian oil sands operator OPTI Canada.
CNOOC is a familiar name to Americans. In 2005, Congressional pressure ended a bid by the company to buy California's Unocal, which was ultimately sold to Chevron (CVX, Fortune 500).
CNOOC isn't alone.
In 2011, China National Petroleum Corp. paid over $5 billion for a joint venture in Canadian shale gas properties held by Encana (ECA), and Sinopec (SHI) put down $7 billion for a share in Brazil's deepwater oil assets.
Earlier this year, there was talk of PetroChina (PTR) buying an old refinery on Aruba owned by American refining giant Valero (VLO, Fortune 500). China is also said to be interested in building a pipeline to carry 300,000 barrels a day of Colombian oil to the Pacific Coast.
The acquisitions are being driven by two factors: a boom in North and South American energy production that requires significant investment, and a desire by Chinese companies to become global players in energy businesses.