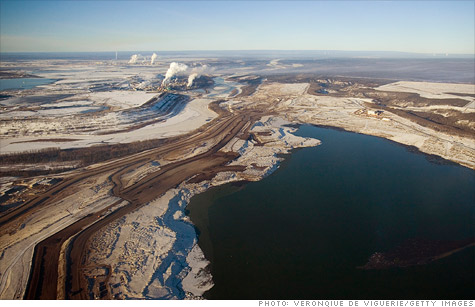 China is paying billions for North and South American oil and other energy projects, including oil sands operations in Canada similar to the one above. Analysts say that should be good for all consumers.
NEW YORK (CNNMoney) -- Eager to feed its growing energy appetite, China's worldwide buying binge for oil and other energy assets is spreading to North and South America.
Yet most analysts say China's newfound interest in American energy may actually be good for U.S. consumers, as it will likely increase oil and gas supplies worldwide and possibly lower prices.
Big deals: Earlier this month, reports said PetroChina (PTR) is close to buying an old refinery on Aruba owned by American refining giant Valero (VLO, Fortune 500).
China is also said to be interested in building a pipeline to carry 300,000 barrels a day of Colombian oil to the Pacific Coast, according to a recent Eurasia Group note.
These deals come on the heels of some other major energy acquisitions.
They include CNOOC (CEO)'s purchase of a $2 billion stake in Chesapeake's Texas oil fields in 2010 as well as CNOOC's $2 billion purchase of Canadian oil sands operator OPTI Canada in 2011.
Also in 2011, China National Petroleum Corp. paid over $5 billion for a joint venture in Canadian shale gas properties held by Encana (ECA), and Sinopec (SHI) put down $7 billion for a share in Brazil's deepwater oil assets.
An insatiable appetite: The acquisitions are being driven by a basic need for energy.
China currently consumes about 10 million barrels of oil a day -- roughly half of what the United States uses. Like the United States, China imports about half the oil it needs.
But unlike the United States, where oil demand is flat or declining, demand in China is expected to jump 50% by 2020.
"They have to get as much as they can from where ever they can," said David Fridley, a staff scientist at the China Energy Group at Lawrence Berkeley National Laboratory. "Going to the Americas gives them a legal and political regime that ensures stability."
Much of China's energy and natural resource buys have been in unstable places -- Southeast Asia, the Middle East, Africa.
The Americas region is arguably much more stable than any of those regions. That's an attractive prospect for a country that relies on a steady flow of resources.
The Americas are also in the midst of an energy boom. From oil sands production in Canada to shale gas in the United States to promising deepwater finds off Brazil, the Americas are quickly becoming an energy powerhouse.
Raising suspicions: As with most major-power forays into the Western Hemisphere, interest in the region's resources by an outside country is bound to produce some unease in the United States.
But analysts say any increase in global energy production, whether it's by a Chinese firm or a company from any other country, should lower oil prices for everyone.
"The popular impression is 'oh, China is poking its head into our businesses,'" said Fridley. "But it makes everyone's pie bigger."
Al Troner, a former scholar at the East-West Center who now heads Asia Pacific Energy Consulting, said China's interest in Western Hemisphere refineries shows that it will likely make gas, diesel fuel and other products available for the global market.
China's oil companies, he said, aren't simply interested in sending supplies back home to China, but rather using their partnerships in the Americas to become truly global oil firms that can compete with the likes of Exxon Mobil (XOM, Fortune 500), BP (BP) or Royal Dutch Shell (RDSA).
"This is not some insidious 1960s plot to destroy the Untied Sates," said Troner. "If they can increase supply as well as demand, then what's the loss for anyone?"