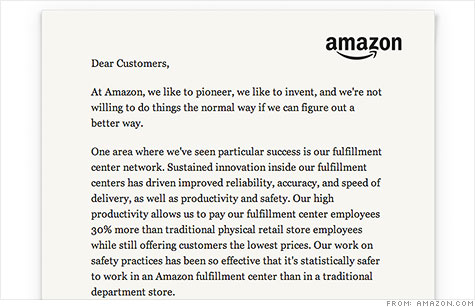 NEW YORK (CNNMoney) -- Amazon's homepage got a very different look Monday, featuring a long update from the company's CEO about a jobs initiative for some of its lowest-paid workers.
The e-commerce company said it will provide its warehouse employees with up to $2,000 of the tuition costs for training in well-paying, high-demand careers. Among the acceptable fields are aircraft mechanics, computer-aided design, machine tool technologies, medical lab technologies and nursing, Amazon said.
Labeling the initiative as an "experiment," Amazon CEO Jeff Bezos wrote that the so-called Career Choice Program will give warehouse employees the opportunity to advance their careers, even if their field of choice is unrelated to Amazon.
"It can be difficult in this economy to have the flexibility and financial resources to teach yourself new skills," said Bezos in his hompage statement. "We're excited about it and hope it will pay big dividends for some of our employees."
As its guide, Amazon is looking at the U.S. Bureau of Labor Statistics to dictate the fields for which it will fund training. The government agency has been reporting for years that, despite high unemployment, there are many companies in well-paying fields that are eager to fill positions. An education gap and lack of adequately trained professionals have made hiring for those positions difficult, particularly for science, technology, engineering and mathematics jobs.
The company said it would pay 95% of tuition reimbursement -- up to a limit of $2,000 -- each year for a maximum of four years.
The news comes 10 months after scathing revelations about the company's mistreatment of its warehouse employees. The Morning Call, a Lehigh Valley, Pa., newspaper, wrote last September about working conditions in one area warehouse that were so hot that Amazon stationed paramedics outside to treat people who were overwhelmed with heat exhaustion.
Amazon (AMZN, Fortune 500) responded weeks later by announcing it would air condition its facilities.
Bezos alluded to those reports in his letter on the company's homepage. He noted that the company's safety improvements now make it "statistically safer to work in an Amazon fulfillment center than in a traditional department store."
The company declined to comment further.
Yet safety isn't the only threat to Amazon workers: The company has been replacing its own warehouse workers with robots. In March, it purchased Kiva Systems, a maker of warehouse robots that drive around floors and pick items from shelves to help fulfill customer orders. Amazon itself is a Kiva customer.