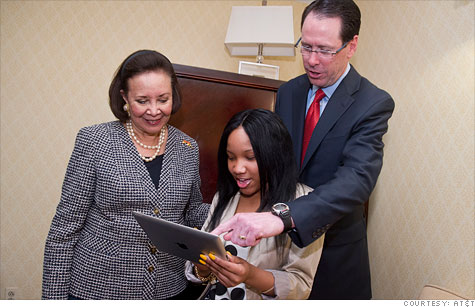 AT&T CEO Randall Stephenson shows off an iPad app to Washington high school student and 'Aspire' graduate Joylin Hayes and America's Promise Alliance Chair Alma Powell.
NEW YORK (CNNMoney) -- While Americans struggle to finds jobs, some of the country's biggest companies insist they're struggling just as hard to find workers with the skills they need.
"We are interviewing 11 people to find one qualified candidate," AT&T CEO Randall Stephenson told CNNMoney in a recent interview. "It's stunning to me."
AT&T (T, Fortune 500), which draws 90% of its revenue from the United States, says it's at a disadvantage compared to other global technology giants. It sees a growing talent gap between this nation and foreign countries, particularly in highly technical fields, but it doesn't have the option of outsourcing heavily.
"We have people putting fiber in trenches, building cell site and installing set-top boxes in homes," Stephenson said. "Those aren't the kind of jobs you can fill abroad."
AT&T's solution: A $350 million commitment to a program called "Aspire," which provides grants to schools, non-profit organizations and researchers for ventures aimed at increasing the country's high-school graduation rate.
AT&T says it has spent $100 million on the program over the past four years, but it recently scaled up its investment, pledging an additional $250 million in funding over the next five years.
There's irony to AT&T investing so heavily in developing its future workforce while its thinning its current roster. AT&T has 256,000 employees, almost than 10,000 fewer than it had a year ago.
But like its high-tech and telecom rivals, AT&T is weathering a sea change in its increasingly digital industry. As its classic landline business dies off and its wireless business grows, the company needs workers with a new set of technical skills.
That's where Aspire comes in. One of the venture's features is a job-shadowing program that has included more than 100,000 students so far. The program made it up to AT&T's top ranks, with Stephenson himself participating for a day.
Alex Elizardo, now a junior finance major at the University of Texas, remembers the spring day in 2008 when he followed AT&T's CEO around the telecom giant's Dallas headquarters.
"It all happened at a really fast pace," Elizardo recalls. "He's always looking at the time and multi-tasks a lot. He'll check the stock price, go to a meeting, check with his secretary, check the stock price again, and go to another meeting."
The then-senior in high school came away from the exhausting experience impressed by how much Stephenson seemed to enjoy his job -- and by what a "financial whiz" he appeared to be. Elizardo said the CEO's drive inspired him to pursue a career in finance.
"Originally, I couldn't give anybody a reason why I wanted to go to college," Elizardo said. "I wanted to go to college because it was the right thing to do, but I didn't have a strong sense to better myself. Participating in that day, I said, 'Hey, this is what I want to do.' Now I would love to be a business executive at a Fortune 500 company."
Obviously, Elizardo's case is one-of-a-kind. Not every student with potential can get a kick in the pants from a CEO of a major corporation.
But AT&T sees job shadowing opportunity as a key outreach tool. The company cites a Junior Achievement study that found 8 of 10 students who go through job shadowing are significantly more likely to graduate than their peers who don't.
"Small connections really can stir change in a child," says Charlene Lake, AT&T's head of the Aspire program. "They understand that these jobs are within their reach."
AT&T has partnered with government agencies like the Department of Education as well as organizations like America's Promise Alliance and other local efforts. The initiative is the core philanthropic program that AT&T sponsors.
It's certainly not alone: Exxon Mobil (XOM, Fortune 500) has a big commitment to STEM (science, technology, engineering, and mathematics) training programs, and Google (GOOG, Fortune 500) runs similar initiatives.
Stephenson acknowledged that such programs go beyond altruism.
The lion's share of AT&T's jobs are for workers out on the front lines, deploying fiber, installing antennas and working directly with customers. Those jobs don't require a lot of engineering talent, but they do require quick learning and adaptability to new technologies, Stephenson said.
The reward is a high-paying job: Many of the most-skilled variety pay between $90,000 and $130,000 a year, AT&T claims.
"This is a bigger problem than $100 million can solve, but we've got to move the needle on this," Stephenson said. "It's not a matter of choice for us."