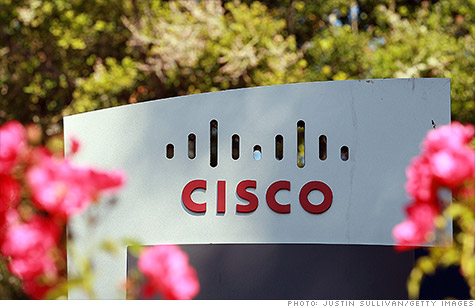 NEW YORK (CNNMoney) -- Cisco said Monday it will cut 1,300 jobs, or about 2% of the company's global workforce.
The layoffs are part of the networking giant's "continuous process of simplifying the company, as well as assessing the economic environment," Cisco said in an e-mailed statement.
"We routinely review our business to determine where we need to align investment based on growth opportunities," the company said. "Additionally, we continue to evaluate our organizational structure as part of our plan to drive simplicity, speed of decisions and agility across Cisco."
These cuts follow a similar move the company made in June, 2011, when the San Jose, California based company laid off 9% of its staff and transferred 7% to another company through a sale.
That came after about 550 employees received pink slips in April when Cisco exited consumer businesses, including Flip, the digital video camera company it bought in March 2009 for nearly $600 million.
Cisco (CSCO, Fortune 500) shares slipped 1.4% in after-hours trading.