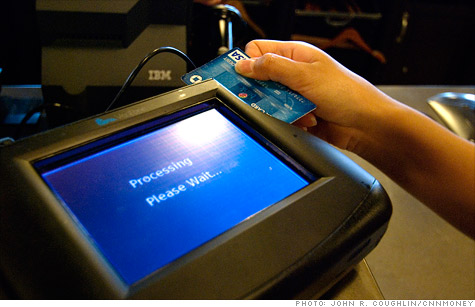 Wal-Mart, Target and small businesses say the proposed $7.2 billion deal between Visa, MasterCard and millions of merchants over swipe fees is bad for stores and consumers.
NEW YORK (CNNMoney) -- Wal-Mart, the world's largest retailer, is asking "all merchants" to reject the proposed multi-billion dollar settlement that aims to quell a longstanding dispute between credit card issuers and millions of merchants over "swipe fees."
Visa (V, Fortune 500), MasterCard (MA, Fortune 500) and major banks agreed earlier this month to pay merchants $7.2 billion for damages stemming from an alleged conspiracy to fix credit-card processing fees.
As past of the class-action settlement, which requires a judge's approval, merchants will also get a reduction in the fees, but only for eight months.
But Wal-Mart came out Tuesday against the proposed settlement. It said it doesn't stop credit card networks from "continually increasing hidden swipe fees, which already cost consumers tens of billions of dollars each year."
"The proposed settlement would require merchants to broadly waive their rights to take action against the credit card networks for detrimental conduct or acts," the retailer said in a statement. "We encourage all merchants to put consumers first and reject the settlement."
Last week, Wal-Mart's big-box rival Target issued a statement in which it, too, called the proposed swipe fee "bad for both retailers and consumers."
Target said the deal would "perpetuate a broken system [and] restrict retailers from any future legal action."
Wal-Mart (WMT, Fortune 500) and Target (TGT, Fortune 500) are not among the 19 plaintiffs representing roughly 7 million merchants who initiated the class-action suit, according to lawyers representing the plaintiffs.
Still, some aspects of the proposed deal -- such as allowing merchants to add a surcharge to a bill if their customers decide to pay with a credit card -- would be applicable to all retailers.
Target said it has no interest in surcharging customers who use credit and debit cards "in order to allow Visa and MasterCard to continue charging unfair fees."
Small merchants also expressed their disappointment with the deal, saying it doesn't go far enough.
Deal in trouble? The National Association of Convenience Stores, one of the 19 plaintiffs that brought the class action suit against Visa and MasterCard, has already rejected it, said Jeffrey Shinder, managing partner with Constantine Cannon, who is representing the stores.
"There is growing momentum against this deal that will put tremendous pressure on its viability," said Shinder. "This deal may ultimately unravel."
"We are the first among the plaintiffs to reject the deal and I suspect we won't be the last," said Jeff Lenard, spokesman for the convenience stores' group, whose members total more than 140,000 merchants nationwide.
"This proposed deal offers temporary relief to merchants at best. At worst, it is a stunt in a trap," he said.
MasterCard spokesman James Issokson said the company recognizes that some merchants may have different opinions, [but that] "the settlement represents a solution reached after years of litigation and months of negotiation."
"The provisions of the settlement, including the flexibility for merchants to impose checkout fees.... was reached with the assistance of the court and was supported by the merchant class representing millions of large and small retailers, and prominent trade groups across the country," he said.
Merrill Davidoff with Berger & Montague PC, one of the lead counsel for the class, said he's confident that the settlement is a very good deal for merchants.
"We are hopeful that it will win final approval," he said.
Lawyers for Visa were not immediately available for comment. Other attorneys representing plaintiffs in the class action suit also could not immediately be reached for comment.