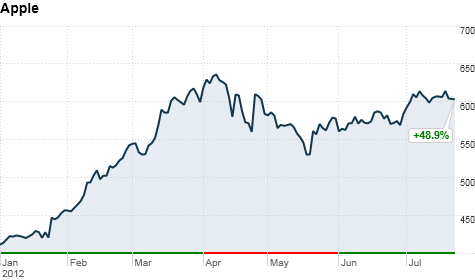 Click chart for more information on Apple's stock.
LAS VEGAS (CNNMoney) -- Apple reported sales Tuesday that rose nearly 24% from a year ago and a profit that soared 21%. In case you were wondering, that's what a bad quarter for Apple looks like.
Apple's revenue, earnings per share and iPhone sales in its fiscal third quarter badly missed Wall Street analysts' forecasts.
The world's most valuable company said net income rose to $8.8 billion, or $9.32 per share, in its fiscal third quarter. Analysts polled by Thomson Reuters forecasted earnings of $10.36 per share.
Sales for the Cupertino, Calif.-based company rose to $35 billion, falling well short of analysts' forecasts of $37.2 billion.
The good news: Apple sold a record 17 million iPads. The launch of the third generation of the tablet, which debuted in the United States in March and in most other countries last quarter, boosted demand.
Apple's decision to continue selling the very similar iPad 2 at a $100 discount also helped boost unit sales. The company said the reduced price iPad is selling particularly well in schools, where twice as many iPads were sold as Macs.
Yet analysts were concerned that the introduction of the lower price point is hurting revenue. Average revenue per iPad fell to $538 last quarter from $653 a year ago.
Delays in getting the iPad on store shelves in China didn't help either.
But the biggest disappointment was Apple's No. 1 revenue driver: the iPhone. The tech giant said it sold 26 million iPhones during the quarter -- a steep drop-off from previous quarters.
Apple had warned that iPhone sales would decline from the past two quarters, but Wall Street analysts had been expecting about 29 million of the smartphones to be sold.
Apple CEO Tim Cook said on a conference call with investors that rumors of a soon-to-be-released new 4G iPhone are weighing on sales, as is a weakening European economy. He said Chinese demand remains strong, however, despite reports of slumping electronics sales in the region.
Mac sales grew to 4 million, and iPod sales slipped to 6.8 million. Cook said that the company's widely anticipated refresh of the Macintosh line, which didn't happen until late in the quarter due to Intel's (INTC, Fortune 500) next-generation chip delays, was the primary driver of tepid Mac sales. He said the weak overall PC market was less of a factor.
Investors were also likely disappointed by Apple's guidance. Peter Oppenheimer, Apple's chief financial officer, said he expects the company to produce sales of $34 billion and earnings per share of about $7.65 during the current quarter.
That fell far short of analysts' median forecast of $38 billion in sales and earnings per share of $10.22.
Apple's outlook is typically ultra-conservative and should be taken with a grain of salt. But Apple barely beat its own forecasts for the third quarter.
Shares of Apple (AAPL, Fortune 500) fell 5% after hours.
The company also announced that its long-anticipated quarterly cash dividend would begin to be paid out to shareholders on Aug. 16.
Apple's dividend yield -- the percentage of a company's share price that it pays out in annual dividends -- is currently 1.8%, factoring in the stock's after-hours sell-off. That's higher than the dividend yields of other technology giants, such as IBM (IBM, Fortune 500), Cisco (CSCO, Fortune 500) and Oracle (ORCL, Fortune 500), but it's lower than the yields of more direct rivals like Microsoft (MSFT, Fortune 500) and Hewlett-Packard (HPQ, Fortune 500).
The dividend, as well as a new share-buyback program, is Apple's response to investors' pleas to do something with its giant cash hoard that grew to a stunning $117 billion in the past quarter.