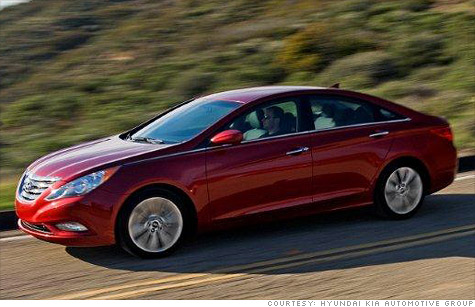 Hyundai is recalling 22,512 Sonata sedans and almost 200,000 Santa Fe SUVs for seperate airbag-related issues.
NEW YORK (CNNMoney) -- Hyundai is recalling almost 200,000 Santa Fe SUVs and more than 20,000 Sonata sedans for separate airbag issues, according to the National Highway Traffic Safety Administration's website.
In the Santa Fe, an occupant sensor in the front seat, which is supposed to detect when a small child is sitting there, may not accurately detect the presence of a small adult.
Since airbags can injure small children in a crash, the sensors work with computers to shut off the front airbag if it detects a small child in the front seat. But the airbags should still release for small adults, so Hyundai dealers will recalibrate the sensor software to better differentiate between children and small adults.
The Santa Fe recall applies to model years 2007 through 2009.
Meanwhile, the South Korea-based automaker is is also recalling 22,2512 model year 2012 and 2013 Sonatas for an unrelated airbag issue.
Because of a manufacturing error, side airbags on these cars may inflate unnecessarily. To fix the problem, Hyundai dealers will replace side airbags.
Concerned owners can contact Hyundai at 800-633-5151.