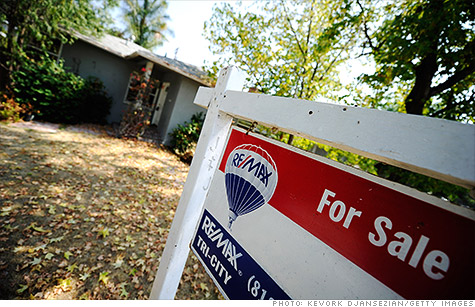 A genuine recovery in home prices may have begun.
NEW YORK (CNNMoney) -- In a sign that the U.S. housing market is recovering, home prices rose for the second straight month in May, according to an industry report issued Tuesday.
Home prices climbed 2.2% compared with a month earlier, according to the S&P/Case-Shiller 20-city home price index. Prices are still off 0.7% compared with May 2011, but that's the lowest year-over-year decline in 18 months, according to David Blitzer, a spokesman for S&P.
The report gave support for industry experts who have been saying that the long-awaited housing market recovery is underway. But Blitzer sounded a note of caution.
"We need to remember that spring and early summer are seasonally strong buying months so this trend must continue throughout the summer and into the fall," he said.
Adjusted for seasonal effect, the price gain shrank to 0.9%, but that's still a strong increase.
The roller coaster ride for home prices took them up 106.5% between January 2000 and their high of July 2006. After they peaked, prices lost more than 34% of their value. The gains of the last two months have pared that loss to 33%.
All 20 cities in the index posted positive returns, led by Chicago, where prices rose a whopping 4.5% month-over-month. In Atlanta, where prices dropped 17% over the 12 months ended in April, turned that around in May with an increase of 4%.
Other big winners were San Francisco, up 3.9%, and Minneapolis, where prices rose 3%. The smallest gain was recorded by Detroit, where prices inched up 0.4%. Phoenix posted the best annual return by far, up 11.5%.
"Investor money has come in to some of the hard-hit markets like Phoenix and Florida cities," said Mike Larson, a real estate analyst with Weiss Research.
That has helped stabilize housing by shrinking inventory.
An ongoing change in the mix of homes sold may be contributing to improving prices, according to Stan Humphries, chief economist for real estate website Zillow. Fewer homes are going as foreclosures, which banks discount heavily to move quickly.
Short sales are claiming a bigger market share, according to David Crowe, chief economist for the National Association of Home Builders. They're often in better condition than foreclosures and the selling process plays out more like conventional sales. Prices, as a result, are higher for short sales.
The strength of the gains was unexpected. A panel of experts put together by Briefing.com had projected a year-over-year decline of 1.8% but the big jump in May prices led to the more modest 0.7% dip.
Larson pointed out that Case-Shiller is a lagging housing market indicator. It is a three-month rolling average through the end of May, so some of the data is almost five months old. Back then, the overall economy seemed to be on the upswing and unemployment was dropping.
Those improvements have flattened out. The unemployment rate actually ticked up in May to 8.2% and stayed at that level in June.
"Momentum will fade as we enter the summer months," said Larson. "The broad economy can't seem to generate much growth."
Crowe said that there has also been a fundamental change in market confidence. Buyers are beginning to believe the market has hit bottom and that the time to buy is now, especially with mortgage rates at historic lows.
Humphries said there could be ups and downs during the next six months, but buyers should not be overly concerned about that.
"This will be a function of seasonality in the share of sales that are foreclosures, which will rise as overall sales decline in the fall and winter," he said. "Overall, we remain cautiously optimistic that home values are at a bottom nationally even while our expectations for price appreciation in the next couple of years are muted. "