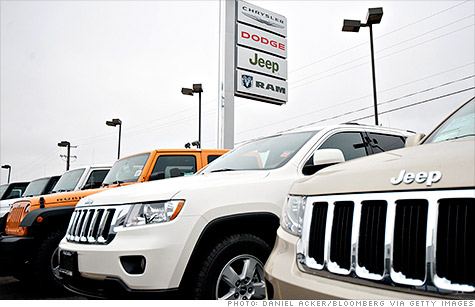 Chrysler Group posted its best July sales since 2007, helped by strong sales of its car models.
NEW YORK (CNNMoney) -- A good year for U.S. car sales hit a soft patch in July, as the largest automakers reported disappointing results Wednesday.
Sales fell from year-ago levels at both General Motors (GM, Fortune 500) and Ford Motor (F, Fortune 500), the two largest automakers in terms of U.S. sales.
GM sales dropped 6.4%, while Ford sales slid 3.8%. Both declines were bigger those forecast by sales trackers Edmunds.com, TrueCar and Kelley Blue Book.
No. 3 automaker Toyota Motor (TM) reported a 26% jump in sales, but that was only in comparison to very weak results a year earlier, when its supply of vehicles had been choked off by the earthquake and tsumani in Japan in March 2011. Despite the improvement, Toyota's latest sales fell short of some forecasts.
No. 4 Chrysler Group reported its best July since 2007 with a 13% rise, driven by a stronger lineup of car models than in the past. But it also fell short of some forecasts.
"We're stuck in second gear," said Jesse Toprak, analyst with sales tracker TrueCar. "It's not a disastrous month, but it wasn't the great July we expected to happen. People are thinking twice before they buy."
Adam Jonas, auto analyst with Morgan Stanley, said his firm's checks with dealers showed "lukewarm floor traffic at best," with consumers becoming more reluctant to buy, despite larger cash-back offers and other promotions.
He still is sticking with his forecast of U.S. auto sales of 14.4 million this year, which would represent a 12.7% jump from last year's total. But Jonas cautioned "we need to start seeing stronger numbers in earnest in August and September to make good on this forecast."
Overall U.S. auto sales have been strong this year, rising 14.8% through June, the best first half of a year since 2008, even as the broader U.S. economic growth has remained sluggish.
July sales rose 8.9% from a year ago, according to sales tracker Autodata.
That's the weakest sales rate of the year and a bit short of the forecasts of a 10.1% gain in sales. Still, it was the best July for the industry since 2007. Last year's July sales pace was 12.7 million.
Part of the weakness in the July numbers was due to drops in less profitable fleet sales to business customers, such as rental car companies, which are tougher for analysts to forecast.
GM reported that sales to rental car companies fell 41%, while Ford reported its overall fleet sales fell 16%.
But retail sales to consumers at GM and Ford weren't great either, with GM reporting a 3% decline and Ford only a 2% increase.
A slowdown in U.S. sales would be very bad news for the major global automakers, which have been enjoying strong North American results to balance out losses in Europe. Sales in Europe have fallen in the face of high unemployment and much of the continent suffering from recession related to the European sovereign debt crisis.