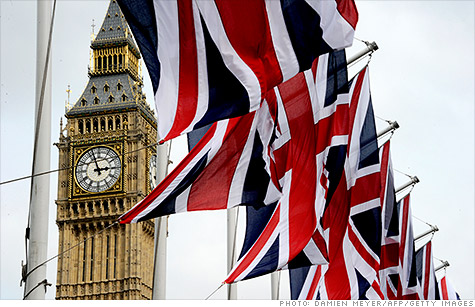 The British economy continued to contract for a third consecutive quarter, for which the weather is to blame, along with a slumping construction industry and the Queen's Diamond Jubilee.
NEW YORK (CNNMoney) -- The British economy slumped for the third consecutive quarter, adding to the economic concern throughout Europe, with some economists calling this the most prolonged double-dip recession in the United Kingdom since the 1950s.
Gross domestic product, the broadest measure of the economy, contracted 0.7% in the months of April, May and June, according to the United Kingdom's Office for National Statistics. The decline was broader than the 0.2% drop economists had forecast.
Investec economist Victoria Clarke said this is a "very prolonged and severe economic downturn" that is "driven by a global financial downturn" beginning in 2008. The London-based economist said this is the longest double-dip recession since the British started tracking their GDP in 1955.
On an year-over-year basis, GDP fell 0.8%.
"This morning's GDP is little short of a disaster for the UK economy and a humiliating blow to [finance minister] George Osborne," said Richard Driver, analyst for Caxton FX. "The government will surely have to adjust its austerity stance now and a clearer growth strategy must be put in place to get Britain back on track."
"We've said the situation would get worse before it gets better," said Jeremy Cook, chief economist at the foreign exchange company World First. "Anything worse than this and we are risking depression."
A stagnant construction sector, and less dramatic slumps in manufacturing production and the services sector also did their part to drag down GDP, according to the report. Construction activity dropped by 5.2% in the second quarter.
The holiday from the Queen's Diamond Jubilee and wet weather might have contributed to the slowdown, said James Knightley, senior economist at ING Commercial Banking London.
"The wettest April-June period on record and the dullest June (in terms of hours of sunshine) since 1909 likely deterred shoppers," said Knightley, adding that the GDP report is "merely a very early estimate based on only 44% of the complete information required to provide the 'final' GDP number."
Things could look up, according to Driver, who forecast a "mild recovery in the second half of the year, particularly in light of the Olympics." But he added that the "risks of further contraction are increasing all the time."
London is hosting the Summer Olympics, which begins on Friday.
Harry Duff of the Office for National Statistics said the second-quarter GDP figures will be updated, if necessary, in about one month.