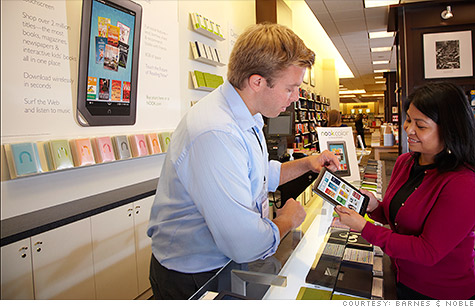 Facing steep competition, Barnes & Noble has slashed prices on its Nook e-reader.
NEW YORK (CNNMoney) -- Book retailer Barnes & Noble is slashing prices on its digital e-book reader, the Nook, by as much as 20% in the face of fierce competition from rival e-books.
Barnes & Noble (BKS, Fortune 500), which announced the price cut Sunday, revealed the reduced prices on its website. The Nook Color is reduced to $149 from $169, the Nook Tablet-8GB is reduced to $179 from $199 and the Nook Tablet-16GB is reduced to $199 to $249.
This is the latest salvo in the war of the e-readers, dominated by Apple's (APPL) iPad, Amazon's (AMZN, Fortune 500) Kindle Fire and Samsung Galaxy.
The competition in the fledging market for e-book has been contentious. Back in April, the U.S. Justice Department filed suit against Apple and five book publishers for alleged price fixing on individual book titles available through e-readers.
Barnes & Noble has been under pressure, even with its former rival book dealer Borders going under in 2011.
Barnes & Noble said back in January that it might sell off its Nook business, prompting Microsoft (MSFT, Fortune 500) to invest $300 million in the bookseller.