U.S. stocks eked out minute gains Friday but closed out election week down more than 2%.
It's been a rough week. Stocks sold off Wednesday and Thursday as investors' attention quickly shifted from the election to the looming fiscal cliff, and the potential consequences for the U.S. and global economies if Congress fails to avert it.
On Friday, President Obama spoke about raising taxes on the wealthiest Americans. The White House also reiterated that Obama would veto any bill that extended the Bush tax cuts for the top 2% of wage earners. Obama said he will meet with Republican and Democratic leaders next week to discuss how to move forward regarding the fiscal cliff.
The Congressional Budget Office warned on Thursday that the fiscal cliff could trigger a drop of 0.5% in real gross domestic product next year, and that contraction could push unemployment to 9.1% by the end of 2013.
It appeared early Friday morning that fiscal cliff fears would lead to a third straight down day. But the Dow Jones industrial average finished the day flat, while the S&P 500 and Nasdaq Composite moved up between 0.2% and 0.3%.
All three indexes moved down between 2.1% and 2.6% for the week. For both the Dow and S&P 500, it was the worst weekly percentage drop, since the week ending June 1. Still, stocks remain up between 5% and 11% for the year.
"I think the selling we've seen is very real," said Joe Saluzzi, co-head of trading at Themis Trading. "Now that the election is over, I think we'll see more selling through the end of the year."
The S&P 500 ended the week a few points below its 200-day moving average of 1,383, a level that investors see as a line separating a bear and bull market. While traders typically get worried when stocks break that level, Ryan Detrick, a strategist at Schaeffer's Investment Research, said stocks have actually rallied over the next six months in 8 out of the 12 times this has happened since 2000.
Related: Fiscal cliff: Tax cuts still partisan tripwire
On the corporate front, J.C. Penney (JCP) reported a much larger than expected loss, sending its shares down 5%. It marked the third straight quarter of bigger than forecast losses at J.C. Penney as new CEO Ron Johnson struggles to remake the company.
After the closing bell Thursday, Disney (DIS) reported earnings in line with analyst expectations but sales of the entertainment company were a bit short of forecasts. Disney's stock plunged nearly 6% Friday.
Shares of daily deals site Groupon (GRPN) plunged nearly 30% Friday, a day after quarterly results missed expectations.
Kayak (KYAK) announced late Thursday that it was being purchased by Priceline (PCLN) in a $1.8 billion cash-and-stock deal. Shares of Kayak shot up 28% to just below the $40 a share purchase price. Shares of Kayak competitor Expedia (EXPE) lost 1%, while TripAdvisor (TRIP), another rival, edged slightly higher.
Shares of Lions Gate (LGF) surged after the maker of "The Hunger Games" said the movie's sales helped lift revenue 97% for the quarter. The film company also swung to a profit in the quarter, after recording a loss last year and said it expects to meet or beat expectations for the remainder of the year.
Friday saw a host of better-than-expected economic reports that helped alleviate some worries.
A report on consumer sentiment came in significantly better than expected. The University of Michigan's preliminary version of its consumer sentiment index for November came in at 84.9, topping forecasts of 82 and up from 82.6 last month.
Wholesale inventories for September also increased by 1.1%, beating forecasts for a 0.4% increase.
The Bureau of Labor Statistics released figures on October export prices, which rose 0.2%, compared with a 0.7% increase in the prior month. Import prices edged up 0.3%, compared with a 0.2% gain the prior month.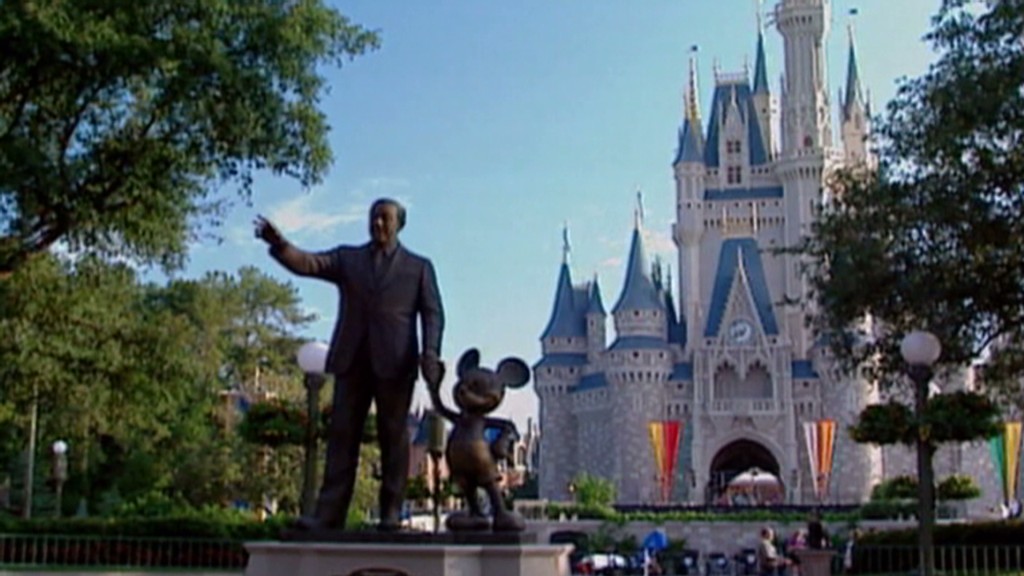 World Markets: European stocks closed in mixed territory. Britain's FTSE 100 closed virtually unchanged. The DAX in Germany dropped 0.5%, while France's CAC 40 added 0.7%.
Asian markets closed in the red. The Shanghai Composite edged down 0.1%, while the Hang Seng in Hong Kong and Japan's Nikkei each dropped 0.9%.
Currencies and commodities: The dollar rose against the euro and the British pound but declined versus the Japanese yen.
Oil for December delivery rose 98 cents to $86.07 a barrel.
Gold futures for December delivery edged up $4.90 to $1,739.90 an ounce.
Bonds: The price on the benchmark 10-year U.S. Treasury edged lower, pushing the yield up slightly to 1.64% from 1.63% late Thursday.