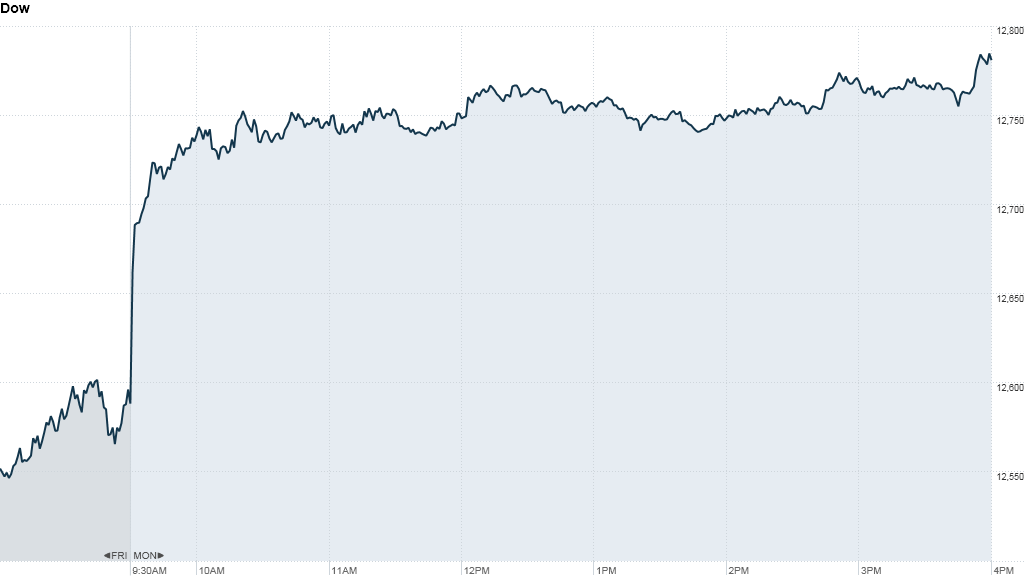 U.S. stocks rallied Monday, logging their best gains in months, as investors started the holiday-shortened week optimistic that fiscal cliff negotiations in Washington are progressing.
The Dow Jones industrial average jumped more than 200 points, or 1.7%, with financial stocks Bank of America (BAC) and JPMorgan Chase (JPM) among the top leaders. The S&P 500 added 2% and the Nasdaq surged 2.2%.
Technology stocks were also big gainers, with Apple (AAPL) jumping more than 7%.
The day's gains were the biggest since early September for the Dow and S&P 500. The Nasdaq had its best day since July.
The broad rally started last Friday, after President Obama and congressional leaders wrapped up their first fiscal cliff meeting since the election. Investors were encouraged after both Democrats and Republicans emerged from the meeting with a confident tone and suggested that agreement could be reached before Jan. 1, when federal spending cuts and tax increases are scheduled to take effect.
"The question of whether or not the fiscal cliff will be avoided is impossible to answer with any degree of certainty, but the political reality does indicate that some sort of compromise may be possible," said Bob Doll, senior advisor at BlackRock. "The two sides still appear to be quite far apart on some important issues, particularly regarding a potential tax increase for higher-income Americans. But the parties are at least attempting to avoid brinksmanship."
While the rhetoric out of Washington is slightly more positive, experts think stocks will remain under pressure and trading will likely be choppy until an actual deal is finalized, which is still likely weeks away.
Even factoring the day's gains, the three major indexes are well off their multi-year highs reached earlier this fall. The Dow and S&P 500 are down about 6% from those levels, while the Nasdaq is down more than 8%. Last week, the tech-heavy index had briefly entered correction territory when its slide has extended to 11%.
Related: Dividend investors prepare for fiscal cliff
Meanwhile, two better-than-expected reports on the housing market also gave markets a lift Monday. Existing home sales rose 2.1% to an annual rate of 4.79 million in October, despite the impact of Superstorm Sandy. That compares with analysts' estimates for a rate of 4.70 million. And the National Association of Home Builders' sentiment index rose for a seventh straight month to 46, its highest level since May 2006. Analysts were expecting a reading of 42.
Investors are also keeping a close eye on escalating violence in the Middle East between Israel and Islamist political group Hamas. Oil prices have been ticking up amid growing concern about a possible ground war in Gaza.
Crude oil for January delivery rose 2.7% and settled at $89.28 a barrel. Brent crude -- Europe's benchmark -- gained 2.6% to $111.75 a barrel.
Markets will have a shortened week, as the exchanges close Thursday for Thanksgiving Day and have an abbreviated trading day Friday.
World Markets: European stocks closed with solid gains. Britain's FTSE 100 rose 2.4%, and France's CAC 40 added 2.5% while the DAX in Germany gained 2.9%.
Asian markets closed higher. The Shanghai Composite edged up 0.1%, while the Hang Seng in Hong Kong was up 0.5% and Japan's Nikkei rallied 1.4%.
Companies: Shares of Intel (INTC) rose slightly after the company said CEO Paul Otellini will retire in May. The board of directors will conduct a search for his successor.
Shares of Lowe's (LOW) gained ground after the home improvement retailer reported better-than-expected earnings of 40 cents a share on sales of $12.1 billion.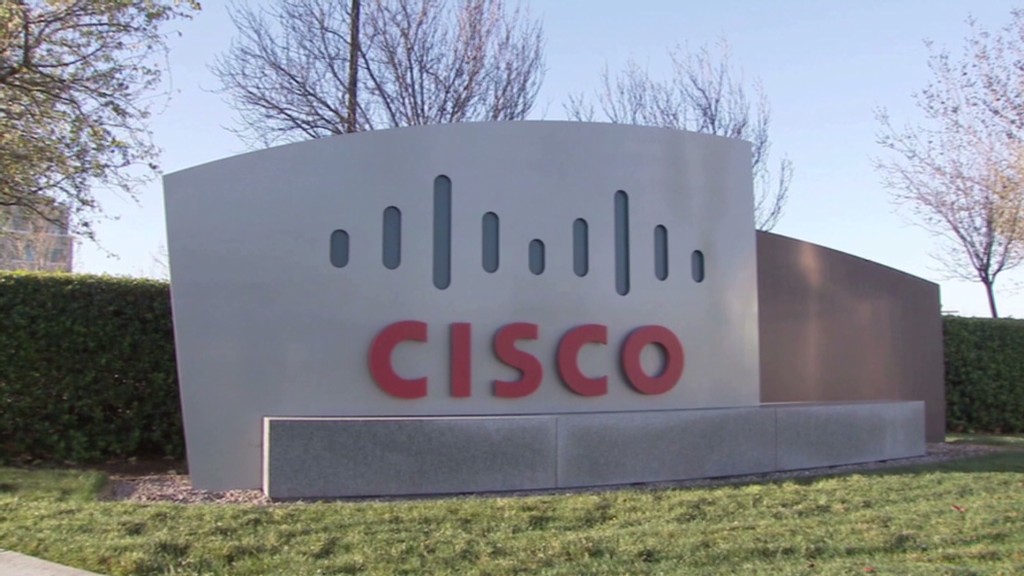 Nokia (NOK) shares jumped on reports that the Lumia 920 sold out in Germany. Shares of Best Buy (BBY) ended the day flat despite a report that the retailer might consider a lower buyout bid from founder Richard Schulze. Best Buy is due to report earnings before the market opens Tuesday.
Tyson Foods (TSN) shares surged after meat company's outlook topped expectations. The company's chicken business also returned to profitability during the third quarter.
Shares of Lions Gate Entertainment (LGF), the movie studio behind the Twilight series, rose after "Twilight: Breaking Dawn Part 2" raked in $141.3 million during its opening weekend. It's the fourth movie this year to open above the $140 million mark. Movie theater chains Regal Entertainment Group (RGC), Cinemark Holdings (CNK) and Carmike Cinemas (CKEC) also got a lift.
Currencies and commodities: The dollar was lower against the euro and the British pound, but rose versus the Japanese yen.
Gold futures for December delivery gained $19.70, or 1.2%, to settle at $1,734.40 an ounce.
Bonds: The price on the benchmark 10-year U.S. Treasury fell, lifting the yield to 1.62% from 1.57% late Friday.