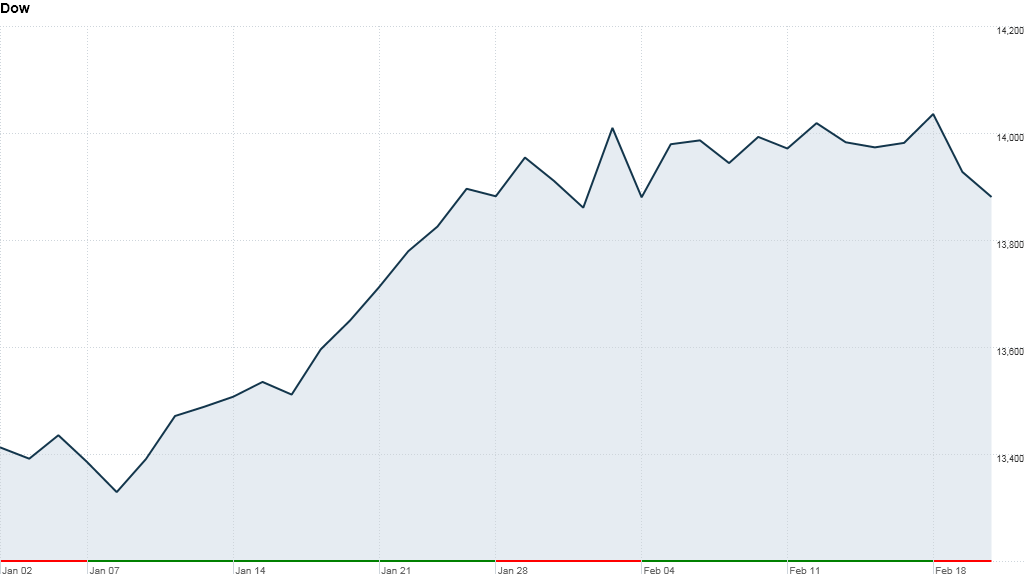 After two crummy trading days in a row, markets could have a quiet close to the week.
U.S. stock futures were modestly higher ahead of the opening bell.
Wednesday and Thursday's combined losses mark the biggest two-day drop in U.S. stocks this year, and all three indexes are on track for their worst week of 2013. A pullback is not unusual though, given steep gains in January.
Investors rushed back into stocks at the beginning of the year, and continue to add money to the U.S. stock market, but at a much more tempered pace.
CNNMoney's Fear & Greed Index has also eased into greed (it had been stuck in extreme greed since the start of the year). And the market's other fear gauge, the VIX (VIX), has jumped more than 17% over the past five days, although it still has a ways to go before it crosses deep into fear mode.
Related: Investors' rush into stocks slows
Despite the recent losses, the Dow is still up nearly 6% since the beginning of the year, the S&P 500 (DIVD)has gained 5% and the Nasdaq Composite (COMP) is up almost 4%.
With no major economic reports on tap Friday, investors will likely take their cues from corporate news.
After the closing bell Thursday, Hewlett Packard reported its first-quarter profit fell 11% from a year ago, and sales declined 6%. But expectations for HP are so low that the figures came in above analysts' estimates, sending shares of HP (HPQ) up 4.7% in premarket trading.
AIG (AIG) also reported better-than-expected earnings after the bell on Thursday, though revenue fell short of forecasts.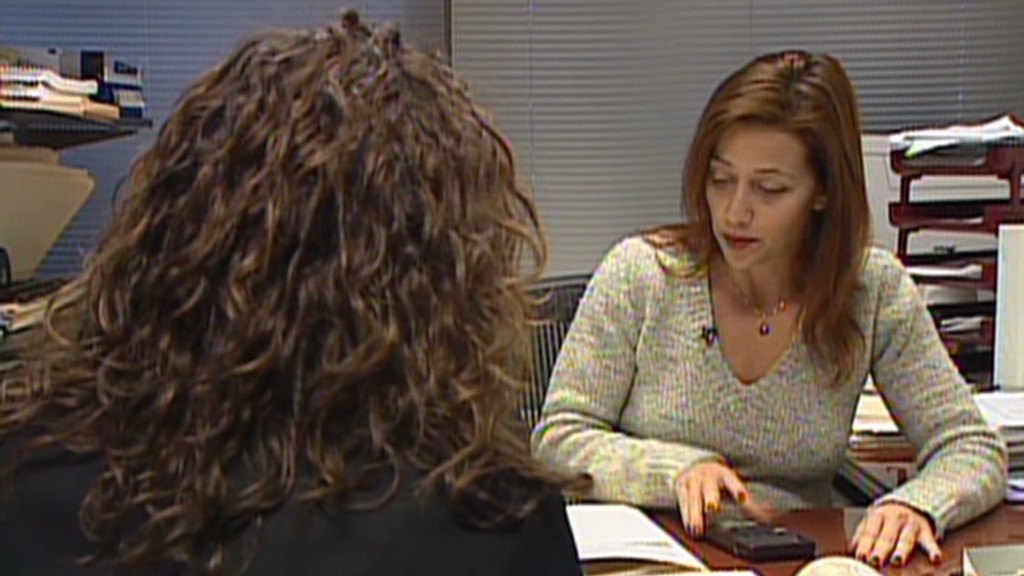 European markets staged a partial recovery from Thursday's sell-off in morning trading, although the mood remained cautious ahead of new official European growth forecasts due later Friday, and a key election in Italy this weekend.
Asian markets ended mixed. Japan's Nikkei added 0.7%, while the Shanghai Composite and Hang Seng lost 0.5%.
Related: Check gas prices in your state
Gas prices have risen for 36 straight days. Nationwide, a gallon of unleaded gasoline cost an average of $3.78 Friday, according to AAA. That's up 49 cents, or 15% since January 17, when prices started rising.