U.S. stocks tumbled Monday as a controversial bailout and bank tax in Cyprus reminded investors that Europe's debt problems are far from over.
The Dow Jones industrial average fell 0.4%, while the S&P 500 lost 0.5% and the Nasdaq declined 0.3%.
Investors were concerned by news that euro area officials would tax bank deposits in Cyprus as part of a €10 billion bailout the nation's over-leveraged banking sector. The news sent Asian stocks into a tailspin and weighed on European markets earlier Monday.
Bill Stone, chief market strategist at PNC wealth management, said investors may once again worry about the links between banks and the most troubled, heavily indebted countries that are part of the eurozone. But he added that the situation in Cyprus is fluid and the island nation of about 800,000 people is not likely to cause a shift in Europe's economic outlook.
The reaction was more muted in the United States, where a small pullback in stocks shouldn't be a big surprise given that the Dow and S&P 500 are near record highs. After rising for 10 trading days in a row, U.S. stocks edged lower Friday, ending the longest winning streak since 1996.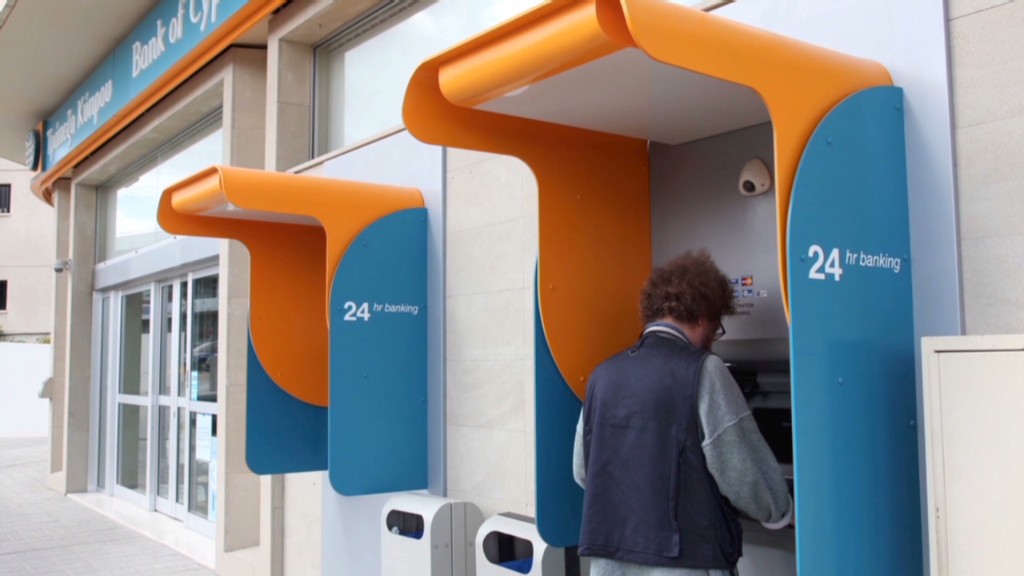 Under the provisional agreement with Cyprus, the European Union has required a one-time tax of 6.75% on bank deposits of less than €100,000, and 9.9% for those over that amount.
Vote for your favorite stock in March Stock Mania
Cypriots rushed to ATMs as the country tried to win parliamentary support. While eurozone leaders stressed that Cyprus is a unique case, investors worry that depositors in other financially weak European nations might face similar bailout provisions in the future.
"The real problem with the Cypriot bank tax proposal is that it breaks an implicit covenant that depositors will not be subject to losses from bank failure," said Guy LeBas, chief fixed income strategist at Janney Capital Markets.
Given the Cypriot economy's size (less than 0.5% of overall output in the eurozone) and the amount of money involved, it's unlikely financial contagion will spread to other euro area nations according to analysts at Barclays Capital.
"We consider the likelihood of a bank run in other periphery countries to be limited, including in Greece," the analysts wrote in a report.
Related: Cyprus just a 'hiccup' for stock rally
Meanwhile, the decision to tax bank deposits may hit Russia particularly hard since half of all the bank deposits in Cyprus are believed to be held by Russians. According to Moody's, Russian corporate deposits are worth about $19 billion and any default could affect the servicing of bank debt in Russia.
The euro plunged 1% versus the U.S. dollar to $1.29. Gold prices jumped $12 to 1,604.60 an ounce. Oil prices edged higher. The yield on the 10-year Treasury note fell to 1.96% from 2% late Friday.
Wall Street's so-called fear gauge, the CBOE market volatility index, or VIX (VWA) rose nearly 20%. It remains at historically low levels though. And CNNMoney's own Fear & Greed Index is still in Greed mode.
European bank stocks were under pressure. National Bank of Greece (NBG), Banco Santander (SAN) and Barclays (BCS) all fell. In the U.S., shares of Wells Fargo (WFC), Citigroup (C) and JPMorgan Chase (JPM) also were lower.
Related: Fear & Greed Index backs away from extreme greed
JC Penney (JCP)shares rallied after analysts at ISI Group suggested the troubled retailer could raise $10.8 billion by leasing space in 300 of its stores as part of a real estate investment trust.
Shares of Carnival Corp. (CCL) slid 3%, after the cruise line issued a weak sales forecast for the year on Friday. The company has had a string of mechanical issues over the last several weeks.
Constellation Brands (STZ) shares rallied after the Justice Department agreed late last week to give Anheuser-Busch InBev (BUD) and Modelo Group more time to negotiate the terms of their merger.