A week of wild swings on Wall Street ended with more selling Friday as investors brace for a potential shift in Federal Reserve policy.
The Dow Jones industrial average fell more than 100 points, or 0.7%. The S&P 500 and the Nasdaq both ended about 0.6% lower.
The major indexes pushed more than 1% higher Thursday, breaking a 3-day losing streak. But all three indexes posted losses for the week. The Dow and Nasdaq both fell more than 1%, while the S&P declined 0.9%.
The choppy trading comes as investors readjust their expectations for the Fed, which could begin to slow the pace of its bond buying program later this year. Fed chairman Ben Bernanke has said repeatedly that any decision to curtail monetary stimulus will depend on how the economy performs.
The Fed has a policy meeting next week and Bernanke will speak at a press conference Wednesday. Most economists do not expect any change in policy to be announced, but investors are hoping Bernanke will provide some clarity on when the central bank may start to cut back its bond buying.
Click for data on bonds, currencies and commodities
Market jitters to continue. The uncertainty over Fed policy sent shock waves around global markets this week as yields on U.S. Treasury bonds rose and investors pulled money out of risky emerging markets. Investors have also been having doubts about Japan's plan to revive its economy as well as signs of slowing growth in China.
In a sign of increased volatility, the VIX (VIX) rose above 18 this week, up from 12 in early May. CNNMoney's Fear & Greed index also slipped into extreme fear for the first time in a year.
"We expect volatility to remain elevated in the short term as investors contemplate the potential for a new market landscape," said Brent Schutte, market strategist at BMO Private Bank.
Related: Fed not expected to taper QE3 until December
European markets closed modestly higher.
Asian markets ended the day with some decent gains, recovering from a big drop on Thursday.
Tokyo's Nikkei index bounced back by nearly 2% after falling more than 6% Thursday. But the benchmark Japanese index is still in bear market territory, down 20% from its most recent peak.
Latest on the economy: The International Monetary Fund said it expects U.S. economic growth to slow this year due largely to budget cuts in Washington. The IMF anticipates the Fed will continue buying assets until the end of the year.
The U.S. Bureau of Labor Statistics said producer prices increased 0.5% in May, driven largely by food and energy prices. The measure of prices for unfinished goods, excluding food and energy, fell 0.4%.
Separately, the Fed said industrial production was unchanged in May after falling in April.
The University of Michigan and Thomson Reuters said the initial reading of the June consumer sentiment index fell to 82.7 from 84.5 in May, when the index hit its highest level in nearly 6 years.
Related: Fear and Greed index back near extreme fear
Pork, furniture and guns: In corporate news, Smithfield Foods (SFD) said earnings fell 69% to $29.7 million, or 21 cents per share, in the quarter ended April 28. The meat producer blamed high grain prices due to last year's drought, which pushed up the cost of hog production. Smithfield announced last month that it was being bought by Chinese meat producer Shuanghui International.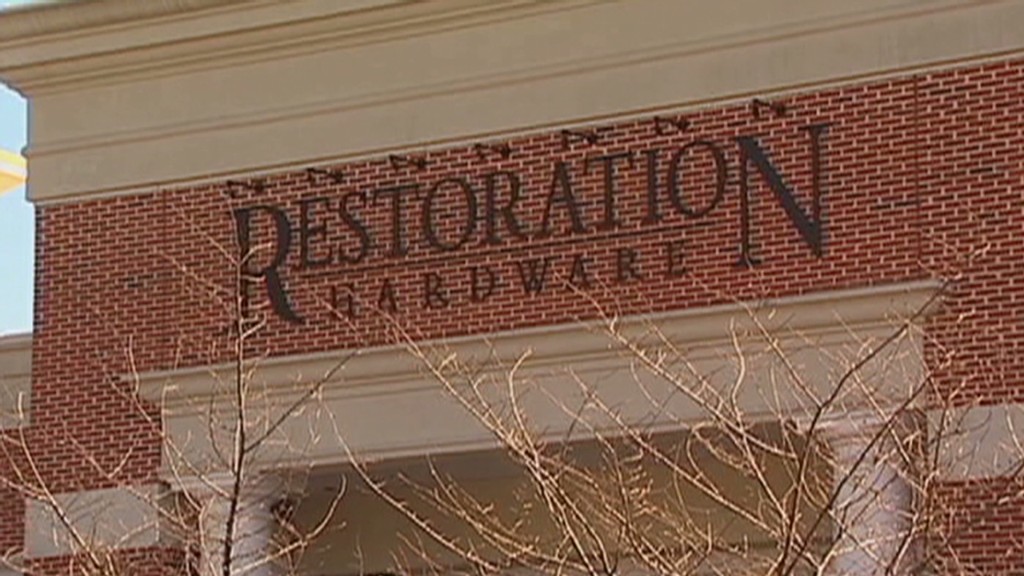 Shares of Restoration Hardware (RH) surged after the retailer reported results that easily beat forecasts. Shares of the company have been red hot since the retailer went public in November.
Smith & Wesson (SWHC) shares rose after the gunmaker released preliminary results showing record quarterly and full-year sales and earnings.
Shares of Monster Beverage (MNST) fell following a report that the American Medical Association could consider backing a ban on advertising energy drinks.
Time Warner Cable (TWC) shares jumped on speculation the cable company could merge with Charter Communications (CHTR). But the former unit of CNNMoney parent Time Warner (TWX) is unlikely to agree to a deal, according to a report on CNBC.
Analysts at Credit Suisse (CS) upgraded SolarCity (SCTY), sending shares of the Elon Musk-backed alternative energy company higher.
Shares of Gannett (GCI)sank following a bearish analyst report. The stock had surged 34% on Thursday after the newspaper and television station owner said it was buying TV station company Belo (BLC).