The rally just keeps going.
Stocks closed higher Monday ahead of a big, upcoming wild card: corporate earnings season.
The Dow Jones Industrial Average and the S&P 500 gained between 0.5% and 0.6% The tech-heavy Nasdaq index was the laggard index, adding just 0.2%.
'Tis the earnings season: Second-quarter earnings season will kick off after the close of trading, starting with aluminum producer Alcoa (AA). Investors typically look to the Dow component's quarterly results as a litmus test for how Corporate America fared over the past three months.
For most of the year, earnings haven't had a big impact on stocks. Instead, investors have focused primarily on the status of the U.S. Federal Reserve's massive bond buying program, which has served as rocket fuel for stocks. All three indexes are up between 14% and 16% this year.
Related: The computers that run the stock markets
But with the Fed expected to take its foot off the gas, investors will be forced to grapple with the fundamentals underlying the stocks they're buying and selling. That's why they'll pay extra attention to this latest round of corporate earnings.
Analysts aren't expecting all that much from U.S. companies the second quarter.
"Sales have got to start coming through," said fund manager Fiona Harris from J.P. Morgan Asset Management. "We believe the relatively sluggish U.S. sales growth could start to weigh heavily if we don't see improvement soon."
Related: Fear & Greed Index shows investors still fearful
Or maybe not... Yet other market analysts note that even if earnings aren't stellar, stocks could still continue on their recent tear. That's because the U.S. stock market continues to look like the safest place in the world to invest, noted Paul Powers, head of trading at Raymond James.
On Friday, for example, the U.S. Labor Department reported that the country added more jobs in June than economists had expected.
With that and other signs of economic improvement in the country, investors bet that the Federal Reserve would be even more likely to scale back its bond buying program. On Monday, bond prices remained lower -- keeping 10-year U.S. Treasury yields elevated at 2.7% -- and put money into stocks.
"There's been a beat down in fixed income, and people continue to put money to work in equities," said Powers.
Click here for more on stocks, bonds, currencies and commodities
Around the world: European markets closed higher, up between 1% and 2%.
But Asian markets ended in the red. The Hang Seng index and the Nikkei in Japan both dropped by more than 1%. The Shanghai Composite index fell even further, down by 2.4%, on continuing concerns about slowing growth in China.
Shares of Asiana Airlines dropped in South Korean markets after a Boeing 777 crashed in San Francisco over the weekend. But the stock price for Boeing (BA) was little changed.
Analysts upgrades/downgrades: An upgrade by Morgan Stanley fueled a run-up in Priceline's (PCLN) stock.
Shares of Intel (INTC) sank, after Evercore downgraded the chip maker's stock.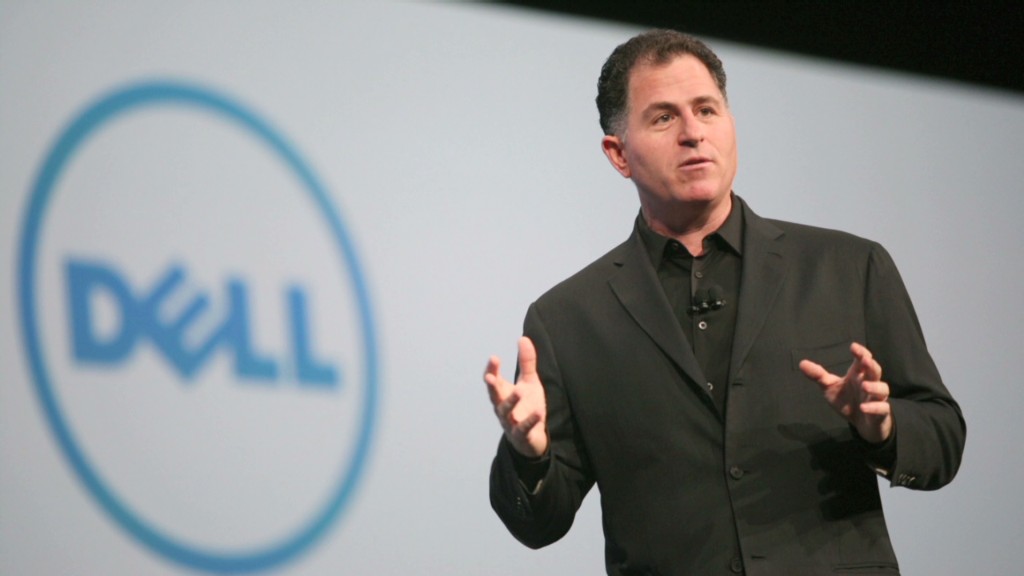 Looking ahead: According to Kit Juckes of Societe Generale in London, among the issues standing out for global investors in the week ahead are a speech by Federal Reserve chairman Ben Bernanke's on Wednesday, a possible "Scotch tape solution" to Portugal's economic crisis and concerns about the slowdown in China's economy.
Michael Dell got one step closer to victory in his bid to take Dell (DELL) private along with Silver Lake, after ISS gave him the nod of approval.
And following Alcoa, results are due later in the week from companies including Yum! Brands (YUM), JPMorgan (JPM) and Wells Fargo (WFC).