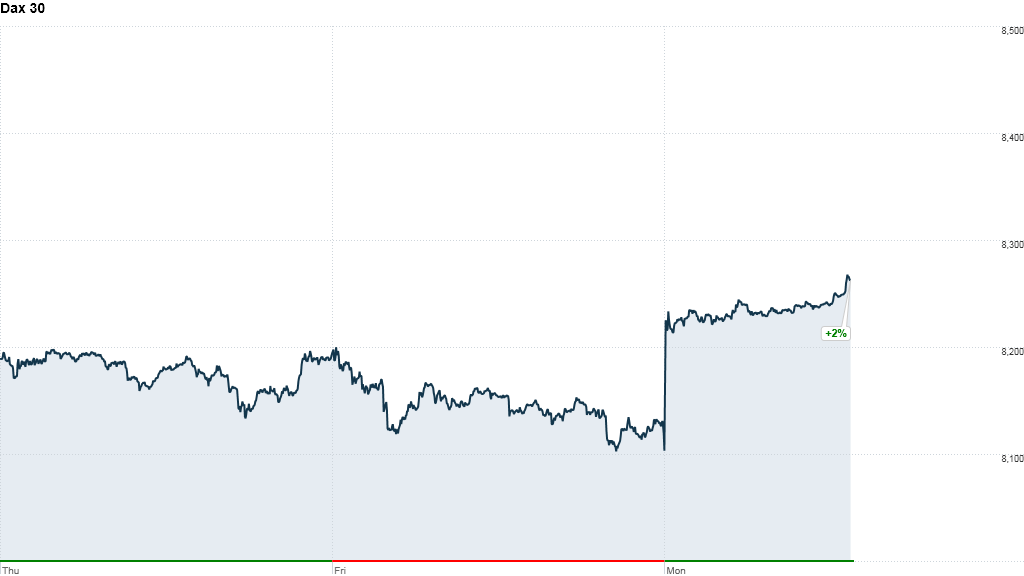 World stock markets started September with a bang after upbeat economic reports in Europe and China buoyed investor confidence on Monday.
A slew of manufacturing data spread positive sentiment across Europe and added to recent signs that the eurozone is building a sustained recovery from its longest ever recession.
Encouraging news from China also helped. A rise in manufacturing output -- with two separate readings showing improvement in August -- threw positive light on the outlook for the global economy.
Steadying growth in China's vast manufacturing sector, seen as an economic bellwether, could ease the pressure on the Chinese government to launch more significant stimulus measures.
A euro zone reading of manufacturing output rose for the fourth consecutive month in August, according to data from Markit.
The result was helped by a strong improvement in German manufacturing conditions, rising to their highest level in more than two years, as export demand rebounded.
But perhaps more encouraging was the data emerging from Europe's struggling peripheral economies. Manufacturing grew at its fastest pace in more than two years in Italy and Spain, and Greece too showed signs of life in its factory sector.
Related: Europe's recovery gains momentum
London's FSTE 100 traded up 1.6%, Germany's DAX and France's CAC jumped 1.7% in morning trading. Hong Kong's Hang Seng closed up 2%.
The strength in European and Asia markets could support a positive start for U.S. stocks when markets reopen Tuesday after the Labor Day holiday. S&P futures were trading up nearly 1.0%.
Economists said the pick-up in activity in peripheral Europe indicated the most distressed parts of the currency bloc are beginning to heal.
"The return to growth at the periphery will make all debt sustainability calculations look much better," said Holger Schmieding, chief economist at Berenberg.
Related: Stocks: Jobs, Syria in focus
The widespread improvement in manufacturing conditions throughout Europe follows better-than-expected euro zone GDP growth of 0.3% in the second quarter.
Corporate news also boosted the London market as index heavyweight Vodafone (VOD) prepared to ink one of the largest deals in corporate history. Vodafone is set to announce it will sell its 45% stake in Verizon Wireless to its U.S. joint venture partner Verizon Communications Inc (VZ) for $130 billion.
The strong start to the month comes after major indexes recorded monthly losses in August. But the likelihood of military action in Syria, combined with expectations that the Federal Reserve will begin the process of reducing its program of quantitative easing, are likely to mean further volatility in September.