Investors are heading into the Thanksgiving holiday in a cheery mood as stocks continued to extend this year's record-breaking run.
The Dow and S&P 500 inched higher and closed at new records Wednesday. The Nasdaq also gained ground and finished at its highest level since September 2000.
November has been another solid month in what's been a stellar year for stocks. The Dow has advanced 3.5% while the S&P 500 and Nasdaq have increased 3%. All three indexes have surpassed key milestones. The Dow is above 16,000, the S&P 500 is trading above 1,800 and the Nasdaq closed above 4,000 for the first time in 13 years Tuesday.
Year-to-date, these indexes have climbed between 20% and 35% thanks to a slowly recovering economy, solid corporate earnings and bond purchases by the Federal Reserve.
Trading volume was thin on Wednesday, as traders began to escape for the Thanksgiving holiday. The U.S. stock markets are closed Thursday and only open for a half-day of trading on Friday.
But traders were watching the Bitcoin market closely. The price of the virtual currency topped $1,000 for the first time Wednesday morning.
The price of one Bitcoin has surged 78-fold in 2013 on hopes the experiment in digital money will eventually become a legitimate global currency. Traders on StockTwits acknowledged that chatter about a Bitcoin bubble has been going on for months, but many still remained intrigued by the massive run-up in the virtual currency.
"$BCOIN Incredibly cheap or incredibly expensive?" asked zagnut. "Makes for a great speculative investment. A small one. :)"
Some traders think the currency's value could continue to grow in the near future.
"$BCOIN It wouldn't shock me the slightest to see it at $1,500 near term," said Cashtrend.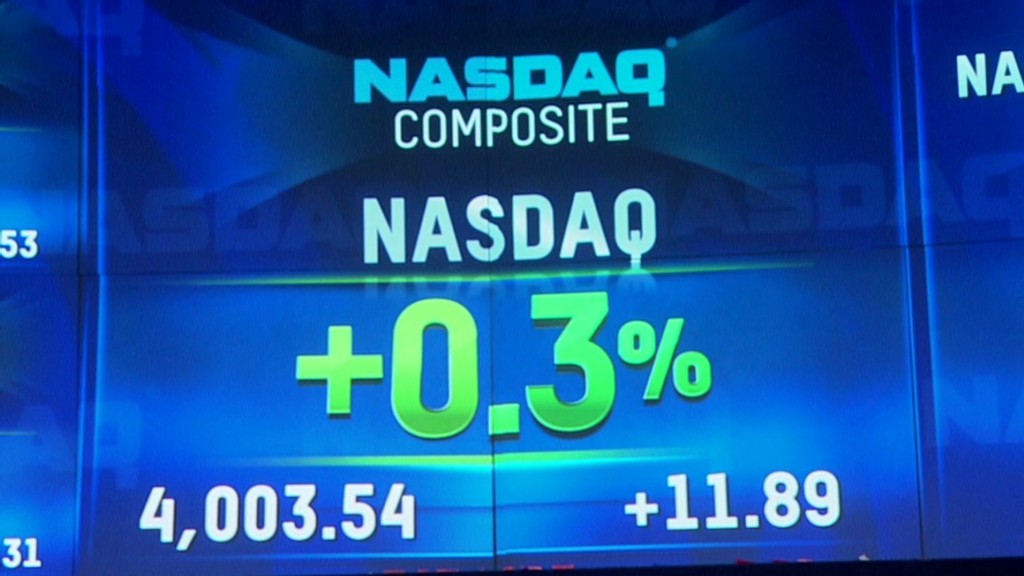 On the corporate front, Hewlett-Packard (HPQ) shares surged after the PC and printer maker reported quarterly earnings and sales that beat expectations.
Shares of US Airways (LCC) were up slightly while American Airlines (AAMRQ) rose about 2% after a bankruptcy judge approved a settlement with the federal government that will allow the two airlines to merge.
Meanwhile, J.C. Penney (JCP) shares surged more than 7% to top $10 a piece for the first time in two months. The stock has rallied more than 60% from lows earlier this year and there are growing hopes that the struggling retailer may start to turn things around during the holiday shopping season.
"$JCP All it takes is a good Black Friday report and this is at $15," said StockTwits user toddmeyer.
Shares of J.C. Penney are still down nearly 50% this year though. But another trader who was bullish on J.C. Penney was also optimistic about one of this year's other big losers -- smartphone maker BlackBerry (BBRY).
"$JCP and holiday season yet to begin...$14 by end of year," said stockchancellor. Also buy $BBRY NOW."
Related: Fear & Greed Index still shows Greed
In economic news, claims for first-time unemployment benefits fell more than expected last week. Orders for durable goods fell in October, but the decline was more modest than forecasts.
The final reading from the University of Michigan and Thomson Reuters showed that consumer sentiment rose more than expected in November.
European markets finished higher, in part due to an agreement on a new coalition government in Germany led by Chancellor Angela Merkel.
Asian markets ended mixed. Chinese indexes posted modest gains while Japan's benchmark Nikkei lost 0.4%. Tensions in Asia are rising after China announced the creation of a controversial new air defense zone. Both the United States and Japan, refuse to recognize the zone.