Markets got into the holiday spirit Friday after the U.S. government said economic activity ramped up significantly in the third quarter.
The Dow Jones Industrial Average, S&P 500 and Nasdaq all closed higher, with the Dow and S&P both at record highs. The Nasdaq finished up 1%, and topped the 4,100 mark for the first time since September 2000.
Gross domestic product -- the broadest measure of economic activity -- grew at a 4.1% annual pace in the third quarter, up from the 2.8% pace that was originally reported in November. The revised GDP figure shows the highest rate of growth for the economy since the last quarter of 2011, and comes just days after the Federal Reserve started pulling back on its economic stimulus by $10 billion per month.
Friday's gains put the market into positive territory for the week and month. After a bumpy start to December, stocks are finally experiencing a so-called Santa Claus rally, moving higher at the end of the year.
If stocks continue to head higher next week, it may have to do so quietly. Volume is expected to extremely light as the market is only open for a half-day trading on Tuesday (Christmas Eve) and is closed on Wednesday for Christmas.
Related: Federal Reserve assets now top $4 trillion
What's moving: BlackBerry (BBRY) shares jumped 15% in volatile trading, after the company reported a steeper-than-expected $4.4 billion loss and a 56% drop in quarterly sales.
The struggling smart phone maker also announced a five-year strategic partnership with electronics contract manufacturer Foxconn. Still, interim CEO John Chen was optimistic during a conference call with analysts and expressed confidence that the company could turn around.
"$BBRY Take your profits, we have had these jumps before," said StockTwits trader AKEB, who seemed skeptical that Friday's surge was justified.
But StockTwits user killer4482 was more bullish.
"$BBRY the bottom has been found and we are now on our way up," he said.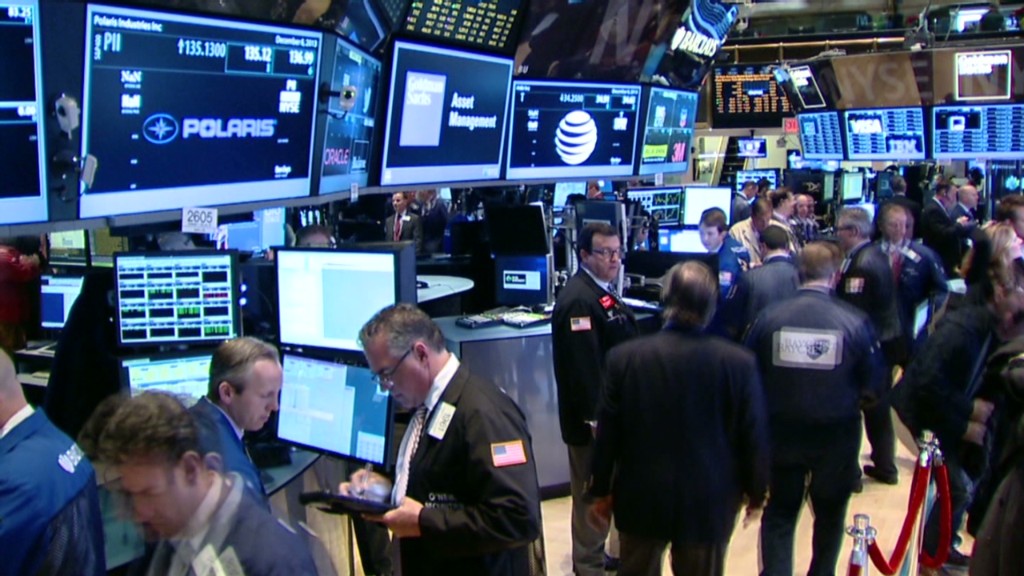 Open-source software company Red Hat (RHT)soared 14% after a strong earnings report. That made Red Hat the top gainer in the S&P 500 for the day.
But StockTwits trader ianvollmer didn't think the stock's rally could be sustained.
"$RHT has no more juice left for the day," he said.
Nike (NKE) shares dipped despite reporting quarterly profits that barely beat expectations.
One StockTwits trader user is nonetheless bullish.
"$NKE Don't be afraid of the swoooooosh," said Ghost22, referring to the company's logo.
And with the Dow and S&P 500 reaching all-time highs, several notable stocks hit records too, including Amazon (AMZN), which topped $400 a share for the first time.
$AMZN Moving fast," quipped StockTwits trader Johhny.
Other notable blue chip companies that hit records Friday include Google (GOOG), Walt Disney (DIS), Comcast (CCV), and American Express (AXP).
Related: Google fined $1.2 million over privacy violations
Gold extended its decline Friday, a day after hitting a three-year low. Prices have plunged 30% this year, the worst annual performance for the precious metal in decades.
European markets finished higher, while Asian markets ended mixed.