February is looking an awful lot like January for investors. Emphasis on awful.
The Dow tumbled 326 points Monday, or almost 2.1%, after a much worse-than-expected reading on manufacturing activity in the United States. The S&P 500 and Nasdaq were also down more than 2%. CNNMoney's Tech 30 index was down sharply as well.
Investors were disappointed after the Institute for Supply Management's monthly index showed that manufacturing activity last month expanded at its weakest pace since May.
The bad news comes as investors are still reeling from a rough January. Disappointing earnings and volatility in emerging markets sent stocks sharply lower during the first month of the year. The Dow tumbled more than 5% last month -- its worst January since 2009.
Many experts think the market could fall further, following big gains in 2013 and the fact that the stocks haven't taken a big breather in a while. Though stocks took a small step back last spring, they haven't experienced a correction, typically defined as a decline of 10% or more, in more than two years.
With Monday's losses, the Dow is down more than 7% from the all-time high it hit on the last day of 2013, while the S&P 500 has fallen almost 6% from the all-time high it reached last month.
Plus, stocks could continue to be volatile ahead of the monthly jobs report due Friday and the possibility of another debt ceiling debate, said Kristina Hooper, investment strategist at Allianz Global Investors. But she thinks investors should not be scared by the market sell-off. "Rather, they should embrace the opportunities it creates."
But investors were clearly afraid. The VIX (VIX), a measure of volatility, surged 15%. And CNNMoney's Fear & Greed Index, which looks at the VIX and six other gauges of market sentiment, shows even more levels of Extreme Fear.
The possibility of a bigger pullback was also a hot topic among traders on StockTwits.
"$SPY way over extended," said MacDee. "Been overdue for a severe severe correction. Bearish."
But leopardtrader said he's using the weakness as an opportunity to buy stocks: "Market keep creating great opportunities. The rebound will be fast and furious as usual $SPY."
Still, others were worried by the fact that many traders are dismissing the pullback as a normal and healthy correction. That could mean that stocks are in for a sharper downward move.
"$SPY no one is predicting anything more than a correction which makes me think we might be in trouble...Bearish," said Undecided.
Related: Fear & Greed Index falls further into Extreme Fear
In corporate news, Herbalife (HLF) shares rose more than 7% after the company said fourth quarter earnings would top forecasts. The company also raised the amount of its planned share repurchase by $500 million.
The stock was briefly lower in the afternoon after hedge fund manager Bill Ackman's firm Pershing Square released a series of reports detailing why it thinks Herbalife is a pyramid scheme. The activist investor has made these accusations about Herbalife for more than a year, but the nutritional supplements marketer has refuted those claims.
Shares of Jos. A. Bank Clothiers (JOSB) declined after The Wall Street Journal reported that the company is in talks to buy fellow apparel retailer Eddie Bauer. The potential deal would be the latest twist in the battle between Jos. A. Bank and Men's Wearhouse (MW). Both retailers have offered to buy each other.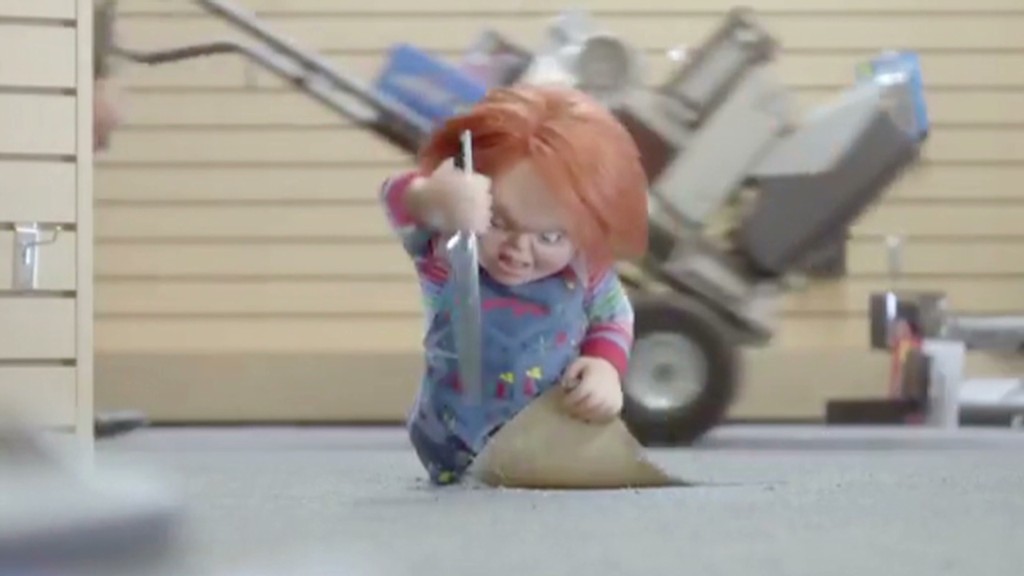 Shares of RadioShack (RSH) were higher as investors seemed to appreciate the company's self-deprecatory Super Bowl ad. Radio Shack showed that it was getting rid of its 1980s image and products and unveiling a new store. But even with Monday's move up, the stock is still well below its 52-week high.
Traders on StockTwits also seemed to enjoy the commercial but were skeptical that RadioShack could really turn its business around amid increased competition from Amazon.com (AMZN).
"Great Radio Shack $RSH commercial trolling itself," said Estimize founder LDrogen. "Too bad it won't matter."
StockTwits trader DominoTree had the same sentiment.
"Even if they give Radio Shack a new collar, it's still the same dog with the same fleas," he said. "$RSH Bearish."
But a handful of traders were optimistic.
"$RSH Not everybody is tech savvy," said Caviar. "They could also lead a 3D Printer retail boom like they did with computers .They rule in rural communities."
Automakers reported January sales Monday. The news was mostly bad. Ford (F). GM (GM) and Toyota (TM) shares fell after posting sales declines in January that were even larger than what analysts were expecting. There was one bright spot though. Chrysler reported an increase in sales that topped forecasts.
Restaurant operator Yum! Brands (YUM) is set to release quarterly results after the closing bell.
Related: Can stocks shake off January jitters?
European markets finished with losses after investors ignored reports of stronger manufacturing activity in the eurozone in January.
Many Asian markets were closed for the lunar new year but those trading moved lower, with the Nikkei in Japan declining by 2%. The benchmark Nikkei has tumbled 10.3% so far this year. That means the index is now undergoing a correction, after posting a whopping 57% gain in 2013 -- its biggest annual rise in over 40 years.
Traders in Asia were cautious after the release of weak official Chinese manufacturing data. Many emerging markets have suffered over the past few weeks as investors have moved money out of riskier markets in favor of relative safe havens.