Stocks got a nice boost Thursday as investors welcomed some good news about the jobs market ahead of the government's all-important monthly employment report.
The Dow jumped 188 points, or 1.2%. The S&P 500 also gained 1.2%. These were the biggest gains for the two indexes so far this year.
The Nasdaq also finished higher, rising 1.1%.
Investors were encouraged after fewer-than-expected Americans filed for unemployment benefits last week. The data is a positive sign ahead of the January jobs report, which will be released Friday. Economists surveyed by CNNMoney expect that 178,00 jobs were created last month, up from only 74,000 jobs in December. They also forecast that the unemployment rate was 6.7%.
Though stocks were mostly higher, Twitter shareholders weren't feeling so chipper.
Shares of Twitter (TWTR) plunged more than 24% after the company released its first quarterly results since going public last year. Investors were disappointed by a forecast of slower sales growth. That made the stock the worst performer in CNNMoney's Tech 30 index Thursday and a hot topic among traders on StockTwits.
"$TWTR Love Twitter as a site and idea....," said DocStoc. "Not so confident in management...Bearish."
But not everyone was so glum.
"$TWTR Glad it is dropping, now I can get it cheaper," said cheddarfactory21. "This stock is going to be great in the long-run!! Bullish."
Related: Tech stocks: The new safe havens?
General Motors (GM) ended in the red after the auto giant reported earnings that fell short of estimates. Revenue was roughly in line with forecasts.
Sony (SNE) shares rose even though the company announced a series of major changes and warned it would lose $1 billion this year. Investors welcomed news that the company is selling its Vaio PC unit, spinning out its television business and cutting 5,000 jobs.
Disney (DIS) helped lead the Dow higher. The media conglomerate's stock climbed more than 5% thanks to solid sales and earnings. Strength in the company's cable network unit, which includes ESPN, and the movie studio unit helped lead the way. Disney had a huge box office smash in its latest quarter with the animated movie "Frozen."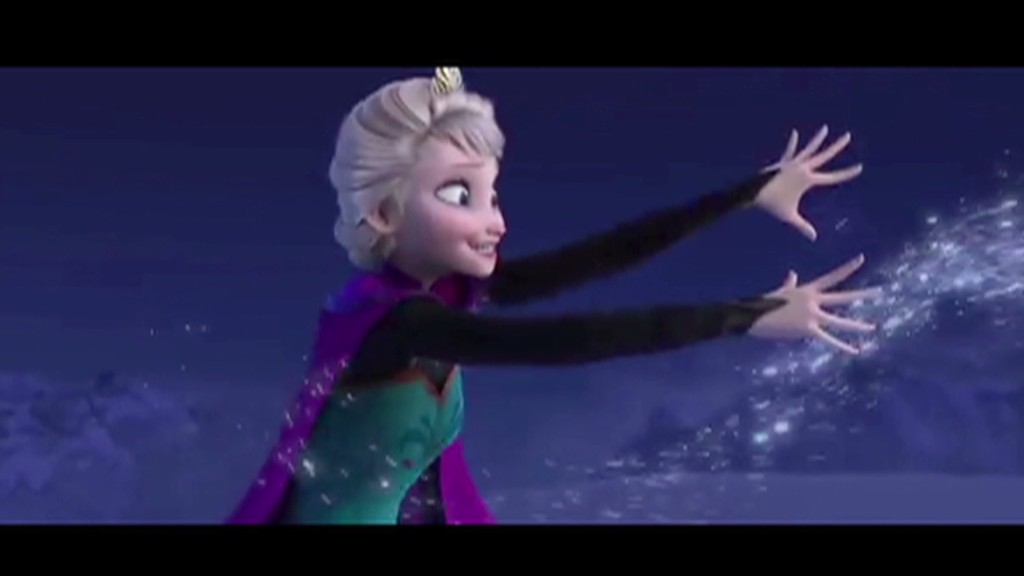 Most traders on StockTwits are optimistic about Disney's prospects.
"$DIS Don't forget, this doesn't even include Star Wars...Bullish," said jelguindy.
Disney bought Lucasfilm in 2012. Star Wars: Episode VII is set to begin filming later this year and hit the silver screen in late 2015.
Also on the bright side, shares of Green Mountain Coffee Roasters (GMCR) soared more than 25% on news that the firm is partnering with Coca-Cola (KO) on its forthcoming cold-beverage-brewing system. The Keurig Cold system will be likely be released in late 2014 or 2015.
Though SodaStream (SODA) will face competition from the new product, its shares rose 7% following the announcement after a report from Citron Research suggested that Coke's archrival Pepsi (PEP) may want to strike a deal with SodaStream so it could also enter the at-home beverage market.
Some traders on StockTwits speculated that Coke and Green Mountain may have announced their partnership to play catch-up because Pepsi has reportedly already approached SodaStream.
"$SODA Anyone think maybe $PEP has already beaten $KO to SODA and therefore Coke went with $GMCR?" asked SmallFishBigSea.
StockTwits trader Congostockchat said he believes a Pepsi-SodaStream deal could be imminent, and given that SodaStream already has a machine for in-home soda, Pepsi could beat Coke in this battle.
"$SODA I believe a $PEP deal is coming," he said. "Pepsi has GOT TO respond to what $KO did. We have the machine NOW. Not in 2 yrs. NOW. Pep can kill KO...Bullish."
Akamai Technologies, (AKAM) an Internet content delivery network, surged more than 20% after a strong earnings report.
AOL (AOL) shares lost ground despite the fact that the company's quarterly revenue came in higher than expectations thanks to stronger ad sales.
LinkedIn (LNKD) reported earnings and revenues after the closing bell that beat forecasts. But investors were disappointed by the company's guidance. Shares plunged more than 10% in after-hours trading.
Related: Fear & Greed Index still in extreme fear
Despite the day's gains, the three main indexes are still down about 5% from their most recent highs.
Peter Cardillo, chief market economist at Rockwell Global Capital, said that markets could have a tough time holding onto gains.
"You're looking at one step forward and two steps backward," he said.
European markets closed more than 1%, while Asian markets also mostly ended with modest gains. The European Central Bank kept interest rates on hold Thursday, despite growing concerns about the threat of deflation in the eurozone and the outlook for global growth.