Investors showed their affection for stocks on Valentine's Day by sending the Dow up more than 100 points and pushing gold prices to new highs for the year.
The Dow Jones industrial average jumped 127 points Friday. The S&P 500 and the Nasdaq were both higher as well.
After a lackluster January, the market has been on a tear in February. All three indexes ended the week higher.
The S&P 500 has gained more than 2% this week and is a few points away from its record closing high. The Dow rose than 2%, while the Nasdaq added nearly 3% and is now on a seven day winning streak. The market will be closed Monday in observance of Presidents Day.
Gold has also gained momentum. The price of the precious metal rose above $1,320, the highest level since November. Gold rose 4% this week.
Investors fled the gold market last year as stocks rallied to record highs. But shares of the largest gold-backed ETF have been strong this year even on days when stocks move higher, a trend one StockTwits trader pointed out. The SPDR Gold Shares ETF (GLD) was up more than 1%.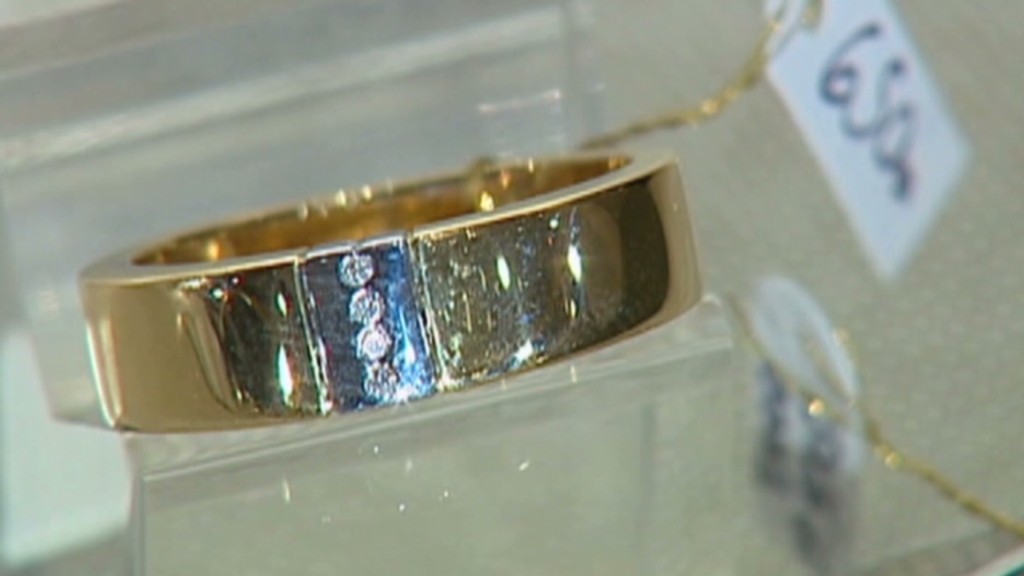 "$GLD intraday: another fantastic and counterintuitive move, rises with risk on. Already in a kind of self-fulfilling uptrend?" said WolfHB.
Investors welcomed Congressional testimony on Tuesday from new Federal Reserve chair Janet Yellen, who stressed the need to maintain the policies of her predecessor, Ben Bernanke. The Fed has been scaling back its bond buying this year, but U.S. monetary policy remains highly favorable for stocks.
Meanwhile, the latest economic news has been mixed. A lackluster report on January retail sales Thursday added to concerns that a colder-than-normal winter is putting a damper on the economy.
"Something called 'Winter' seems to be getting in the way of a clear read at the moment," said Nick Colas, chief market strategist at brokerage ConvergeEx Group. But he said "seasonal vagaries" in economic data during February are as common as "last minute calls to the florist."
Related: Fear & Greed Index continues to show fear
The biggest loser. Weight Watchers (WTW) shares plunged more than 26% after the company slashed its earnings forecast and CEO Jim Chambers said 2014 would be "challenging."
Traders on StockTwits had some interesting theories on what was behind the poor outlook.
"$WTW I have always admired this company but I'm afraid science may kill it. People just want to pop a fat pill and they may be imminent!" said MrX.
If science isn't to blame, then it's seasonality, according to another trader.
"Definitely the weather. Nobody and I mean nobody eats vitamins or tries to lose weight in the winter. $WTW $GNC $VSI," said mytfine.
Shares of GNC (GNC) and Vitamin Shoppe (VSI) were also down sharply.
But one trader was still betting on Weight Watchers, based on anecdotal evidence.
"$WTW noticed the freezers in grocery stores are packed with weight watchers meals...shift already under way," said outsideday.
Shares of companies in the legal marijuana industry surged after the Justice Department issued guidelines for banks to legally provide financial services to state-licensed marijuana businesses.
Medbox (MDBX), which makes safes for marijuana dispensaries, were up more than 20%. Investors also bid up thinly-traded shares of companies like GreenGro (GRNH)and GrowLife (PHOT), which support cannabis cultivation.
Jos. A. Bank (JOSB) shares edged higher after the clothing retailer announced that it was acquiring Eddie Bauer for $825 million. Shares of rival Men's Wearhouse (MW), which is hoping to buy Jos. A. Bank, were lower too.
Shares of Trulia (TRLA) fell sharply after the real estate website said losses in the fourth quarter widened from last year.
Cliffs Natural Resources (CLF) jumped 5% after the company's quarterly results beat analysts' expectations. The company also rejected a proposal from a hedge fund that is seeking to break the company up and replace its CEO. Cliffs was one of the biggest gainers in the S&P 500 Friday.
Shares of Campbell Soup (CPB) rose after the company reported better-than-expected earnings. Hyatt Hotels (H) also reported earnings that topped expectations, sending shares higher in early trading.
Kraft Foods (KRFT) shares gained following quarterly results that beat expectations.
Most European markets ended higher, thanks to slightly stronger-than-expected fourth-quarter growth figures. Eurozone GDP rose by 0.5% compared to the year-ago quarter, in its first sign of annual growth since 2011. Asian markets ended mixed.