Time to exhale! After two extremely volatile days for the market, stocks barely budged Wednesday.
Uncertainty about Ukraine remains. There was also a disappointing report on private sector hiring for investors to digest. But the Dow and Nasdaq ended little changed. So did the S&P 500. But it did hit another new all-time high before its flat finish.
Wednesday's pause comes as the high-stakes standoff between Ukraine and Russia continues, with both sides insisting they don't want war.
The EU announced that it was offering an aid package to Ukraine worth € 11 billion. Meanwhile, Secretary of State John Kerry is scheduled to meet Russian leaders as the U.S. considers implementing economic sanctions against Russia after the country's forces took control of Crimea. EU officials have also said they are considering sanctions.
The recent focus on Ukraine and volatility in stocks show "there's a lot of fragility to the markets," said Goldman Sachs (GS) CEO Lloyd Blankfein during an interview with CNN's Wolf Blitzer Wednesday afternoon. Blankfein also addressed the recent spate of weak economic data.
"Don't forget even though we're in a recovery, the recovery is slow, it's a little bit ambiguous," he added.
Related: Fear & Greed Index moves into Extreme Greed
That includes the job market. Payroll processing firm ADP reported that private sector employers added just 139,000 jobs in February. That missed economists' forecasts. Like many of the other weak economic reports lately, economists were quick to blame the disappointing number on snow and ice.
The mediocre report is worrisome two days before the government will release the official numbers for job growth and unemployment for February. Economists surveyed by CNNMoney expect that 150,000 jobs were added last month, up from only 113,000 jobs added in January. They expect the unemployment rate to remain at 6.6%
Still, it looks like investors are once again growing more bullish. There's been a sharp shift in the mood of the market over the past few weeks. CNNMoney's Fear & Greed index is now in Extreme Greed mode, compared to Extreme Fear just a month ago. The index tracks the VIX (VIX) and six other gauges of investor sentiment.
Related: Ukraine won't kill the bull market
On the corporate front, eBay (EBAY) remained in focus as a spat between the company and activist investor Carl Icahn continued. In The Wall Street Journal Tuesday, eBay CEO John Donahoe said breaking up the company from PayPal is a bad idea. On CNBC Wednesday morning, Icahn continued to push for the spin-off, and said he's "never seen worse corporate governance than eBay."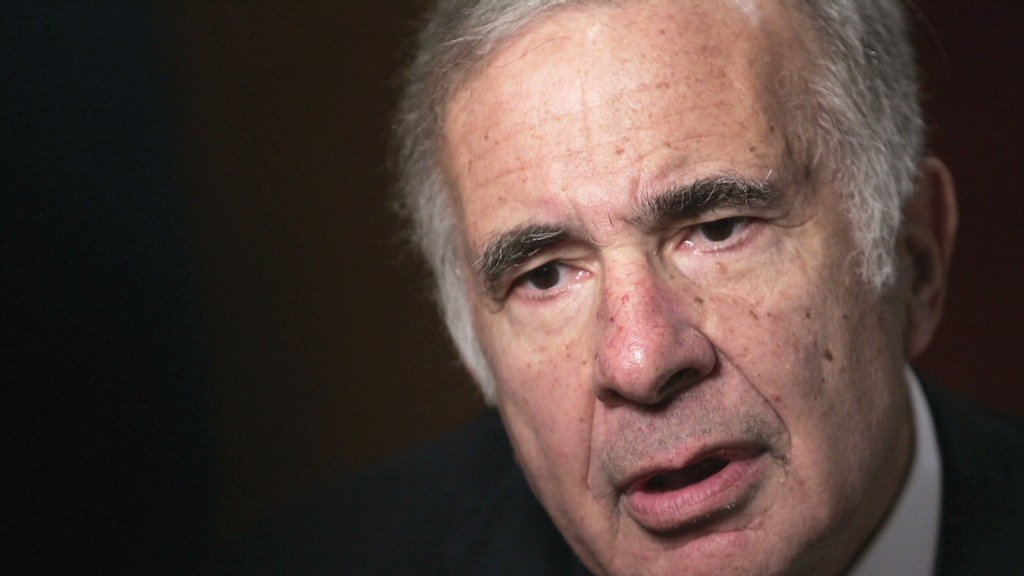 Shares of eBay didn't do much Wednesday. But they are near an all-time high of just below $60.
StockTwits user jimmac said "the Icahn effect may be fully priced here at 59" and that the stock "could very well stay within the 12 month range. Don't see new catalysts."
Facebook (FB) shares were up sharply and touched a fresh all-time high. The stock was the biggest gainer in CNNMoney's Tech 30 index.
Traders are optimistic that the stock will continue to surge. A TechCrunch report from Tuesday suggesting that Facebook is in talk to buy drone maker Titan Aerospace put Facebook investors in a particularly good mood. Facebook is interested in using the drones to bring Internet access to parts of the world still without it, beginning with Africa, the report said.
One trader compared Facebook to Google (GOOG) and another said the stock could climb another 40% from its current levels of around $71.
"$FB Zuck is going to buy the drones and connect the world on FB," said tecrider. "This is the company's mission. This is going to be huge like Google."
"$FB Internet to the world is gonna drive this over $100... quickly," said Stumptowners. "Lookin' good."
Related: Drone maker could put Facebook in the clouds
Shares of Hovnanian (HOV) finished sharply lower after the homebuilder's revenue came in below expectations. That may be another sign that that the housing market recovery could be losing steam.
Target shares were lower after the company said it is replacing tech chief Beth Jacob in the wake of the retailer's massive data breach.
Smith & Wesson (SWHC) surged 16% after the gunmaker reported sales jumped 7%, with handgun sales up 30%. Shares of rival Sturm Ruger (RGR), which reported disappointed sales last week, rose as well. But some StockTwits traders seemed skeptical.
RCaptain recalled that shares of both gun makers fell sharply last week, even before Strum Ruger's earnings release.
"$SWHC People forget how fast this ran down the last week for no reason, he said "And B4 $RGR earn to boot."
PetSmart's (PETM) revenue fell short of forecasts, sending shares of the pet supplies retailer down 1.5%.
European markets ended slightly lower. In Asia, Chinese markets moved lower as the country launched its annual parliamentary meetings in Beijing. The Shanghai Composite index fell nearly 1% and the Hang Seng in Hong Kong dropped 0.3%.