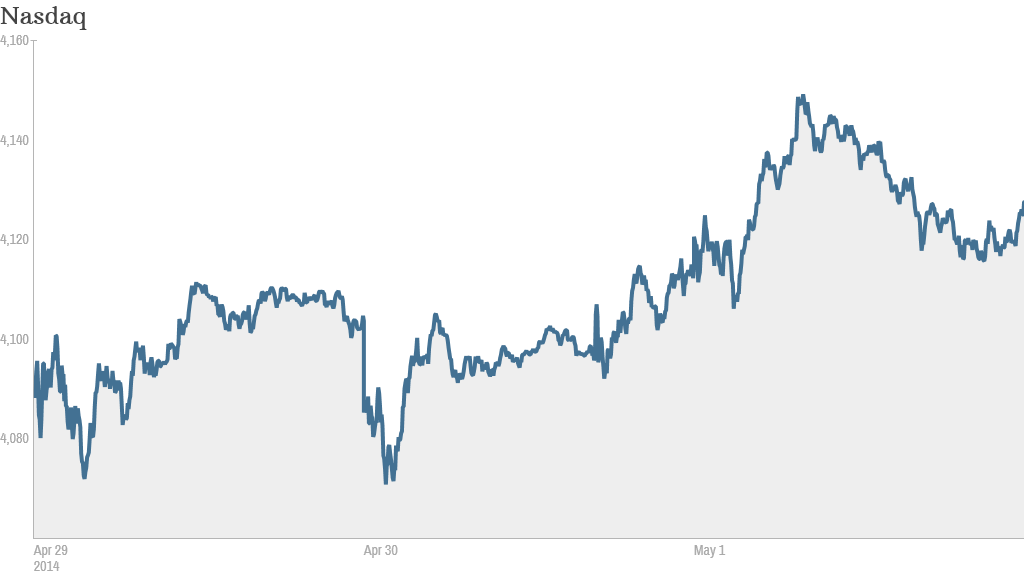 Will investors sell in May? The jury is still out.
Stocks reached the finish line on Thursday with a mixed picture as investors shrugged at the latest stream of earnings and economic reports. The markets didn't move much as investors seemed to be waiting to see what happens tomorrow when the latest jobs data come out.
The Dow Jones industrial average and S&P 500 closed slightly lower, failing to hit new record highs. The Nasdaq logged modest gains thanks to rebounding social networking stocks. This is the third straight day of gains for the Nasdaq.
While the headline indexes had a dull day, there's been plenty of action in individual stock names as investors try to sort out the truly valuable from the rest.
Related: Top 20 stable stocks to buy now
MasterCard (MA) rallied about 1% after the card giant logged stronger-than-expected results powered by double-digit volume growth. ExxonMobil (XOM) flirted with an all-time high as investors cheered the energy giant's big earnings beat and largely overlooked a modest revenue miss.
Shares of Avon (AVP)Products tumbled more than 10% to the lowest stock value since 2000 as investors fretted about the cosmetic company's big earnings miss amid an 11% drop in revenue. Avon also put to bed a long-running bribery probe by agreeing to pay $135 million in fines to U.S. regulators.
Related: Makeup can't conceal Avon's ugly finances
Sony (SNE) Corp fell over 2% after slashing its profit outlook and projecting a first-quarter loss.
Shares of DirectTV (DTV) spiked 4% on talk that AT&T (T)may be making a bid for the satellite TV company. T-Mobile US (TMUS) popped 8% amid renewed speculation of a tie-up with Sprint (S). T-Mobile, the fourth largest U.S. wireless provider, also said it added 1.3 million subscribers in the first quarter, although that didn't prevent a loss of $151 million.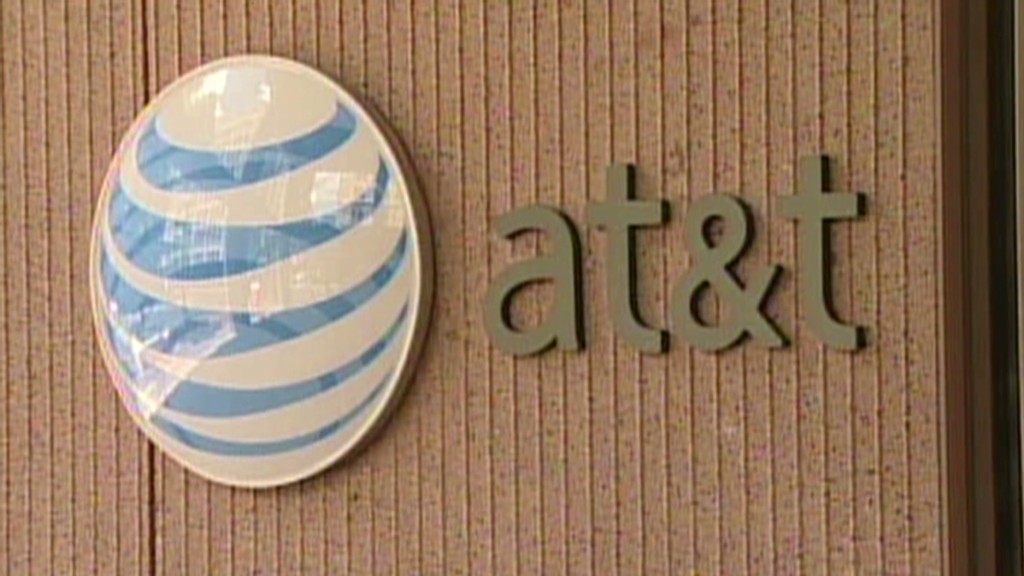 Confirming recent reports, Ford said CEO Alan Mulally will step down on July and be succeeded by Mark Fields, who has served as chief operating officer since late 2012. Ford (F) stock closed down over 1% on Thursday.
In other management change ups, KFC and Pizza Hut owner Yum Brands (YUM) said Taco Bell CEO Greg Creed will replace David Novak in January. Yum stock also closed in the red.
Meanwhile, tech stocks enjoyed a bounce, allowing the Nasdaq to outperform its peers. Investors gobbled up shares of depressed Internet and social media stocks like Yelp (YELP), Pandora Media (P) and SINA (SINA).
The tech stock rally came just before LinkedIn's (LNKD) earnings report at the closing bell. The business social media network beat expectations, although not by enough to satisfy Wall Street. The stock was trading lower after hours.
Related: Fear & Greed Index still gripped by fear
On the economic front, the Institute for Supply Management's index on U.S. manufacturing climbed above forecasts in April, indicating a pickup in activity.
The Labor Department said initial jobless claims climbed to a nine-week high of 344,000 last week, well ahead of estimates. The government also said consumer spending jumped by a stronger-than-expected 0.9% in March, the fastest pace since August 2009.
But the focus will shift after the closing bell to the government's all important jobs report. Economists predict the U.S. added 210,000 new jobs in April, bringing the unemployment down to 6.6% from 6.7%.
The turn in the calendar to May allows investors the chance to revisit a favorite argument: Does it make sense to sell in May and go away?
The May-to-October period is considered the worst six months for stocks, with the S&P 500 gaining just 1.3% over that period in the past 50 years, compared with 7.1% in the other six months. Analysts have said that poor track word could be exacerbated by the fact that it's a mid-term election year.
"We are confused in May but not going away," Michael Block, chief strategist at Rhino Trading Partners, wrote in a note on Thursday.
Related: Get ready for the summer bummer on Wall Street
Most of the major European markets were closed for a holiday Thursday, but the U.K. exchanges were open. The FTSE 100 closed modestly higher, led by Lloyds Banking Group (LLDTF). The British bank reported first-quarter results that impressed investors.
Most Asian markets were also closed, but Japan and Australia were open for business. Japan's Nikkei index popped up by 1.3%, while Australia's ASX All Ordinaries index dipped by 0.7%.