So much for that Tuesday lucky streak for stocks.
The Dow Jones industrial average, the S&P 500 and the Nasdaq all ended the day down, snapping an eight week run of winning Tuesdays. The Dow lost nearly 130 points in afternoon trading, and the Nasdaq fell 1.4%.
It's a sharp break from the recent trend. Until today, the S&P 500 had advanced every Tuesday this year except for two. Today, the index fell 0.9%.
The streak has been attributed to the Federal Reserve's bond buying program, mutual fund flows and trading algorithms. But at least one trader on StockTwits seemed skeptical that there was anything particularly special about Tuesday.
"$SPY Always up on Tuesday, nothing could possib-lie go wrong," read a post by NaveenB.
Another theory is that Tuesdays are merely a reversal of losses on Monday, though that was not the case this week. Stocks ended modestly higher yesterday, just days after the Dow hit an all-time high.
With the market at such lofty levels, investors seem skeptical about pushing stocks too high. The CNNMoney Fear and Greed index shows investors are still feeling fearful.
After the market closed, Disney (DIS) released a blockbuster quarterly report, helped by strong gains in its studio entertainment division following the success of animated films such as "Frozen" and "Thor: The Dark World".
Groupon (GRPN) reported a larger-than-expected quarterly loss, sending its shares lower in extended trading.
Shares of Whole Foods Market (WFM) plunged in extended trading after the organic grocery chain reported earnings that fell short of expectations and issued an outlook that disappointed investors.
Related: 5 investing tips from top hedge fund managers
Twitter (TWTR) shares led the plunge, hitting a new low as the "lock-up" period for company insiders to sell the stock expired. Under federal securities law, company founders and executives must wait six months before selling any shares following an initial public offering.
The stock ended just under $32 a share, down 18% for the day and the lowest trading price yet for the social media giant. Twitter, which priced its initial public offering in November at $26 a share, rose to a high above $74 in December.
"Must be gut wrenching to watch your insider shares plummet from 74 to 35 before you can sell them $TWTR #imaginaryweathvanished," read a post by LincolnList.
Other so-called momentum stocks, those that have rich valuations following big gains in the past year, were also taking a beating. Netflix (NFLX), TiripAdvisor (TRIP) and Amazon (AMZN) were all down sharply.
Apple (AAPL) shares fell back below $600 a share, one day after rising above that level for the first time since October 2012. The iPhone maker recently announced a stock split that will take place in early June. One trader was advising investors to take a bigger bite of Apple stock: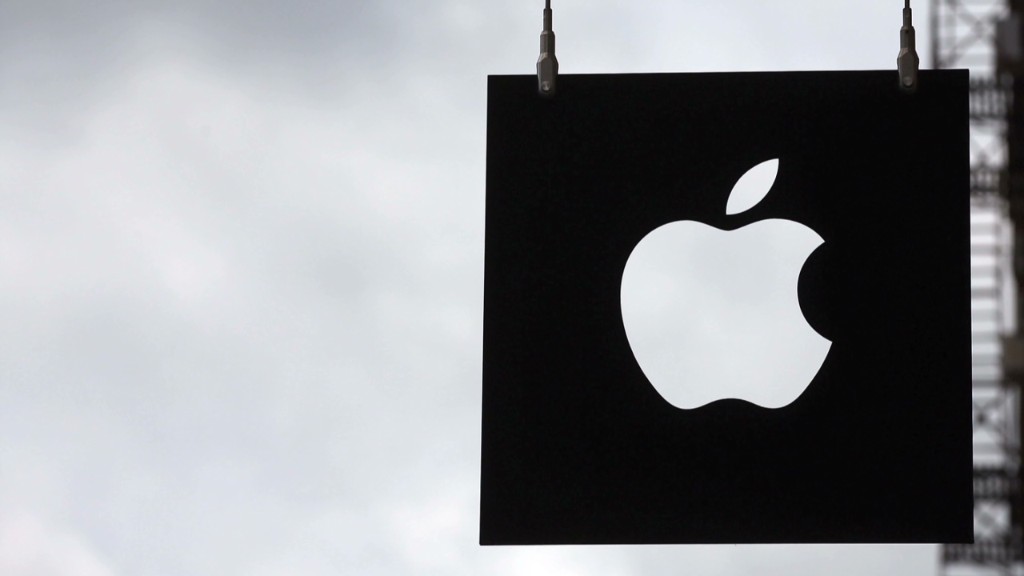 "If you want to recover from your [$TWTR] losses, buy $AAPL: a real company," read a post by BlackBerril.
Related: Twitter is trending today on Wall Street, but for all the wrong reasons.
Tech stocks had a bad day overall.Netflix (NFLX) and Facebook (FB) were the worst performers in the S&P 500 with Amazon (AMZN)not far behind.
Drugmaker Merck (MRK) announced that it will sell its consumer care business to Bayer AG for $14.2 billion. It was the latest in a recent spate of larger mergers in the pharmaceutical industry. Merck stock fell over 2% today.
Target (TGT)continues to drop. Shares fell nearly 4% again today. Target's CEO announced he was stepping down yesterday, adding to concerns about the direction the company is headed.
DirecTV (DTV) shares gained after the satellite TV company reported stronger-than-expected earnings, despite a quarterly slide in net profit year over year. It's one of the top performers in the S&P 500 today.
Office Depot (ODP) shares surged a whopping 15.8% after the company reported solid earnings and plans to close 400 stores.
For the rest of the week, analysts say the biggest market moves will be testimony from Federal Reserve Chairman Janet Yellen on Wednesday, a meeting of the European Central Bank on Thursday, and ongoing tensions in Ukraine.
In Europe, investors were parsing through major bank earnings from UBS (UBS) and Barclays (BCS).
Credit Suisse (CS) was also in focus amid reports the bank could be hit with a criminal penalty as it negotiates with the U.S. government over charges it helped American clients avoid taxes.
Related: Feds wrestle with 'too big to jail' for Credit Suisse
European markets ended lower. Markets in Japan, South Korea and Hong Kong were closed Tuesday. But the other Asian markets made gains.