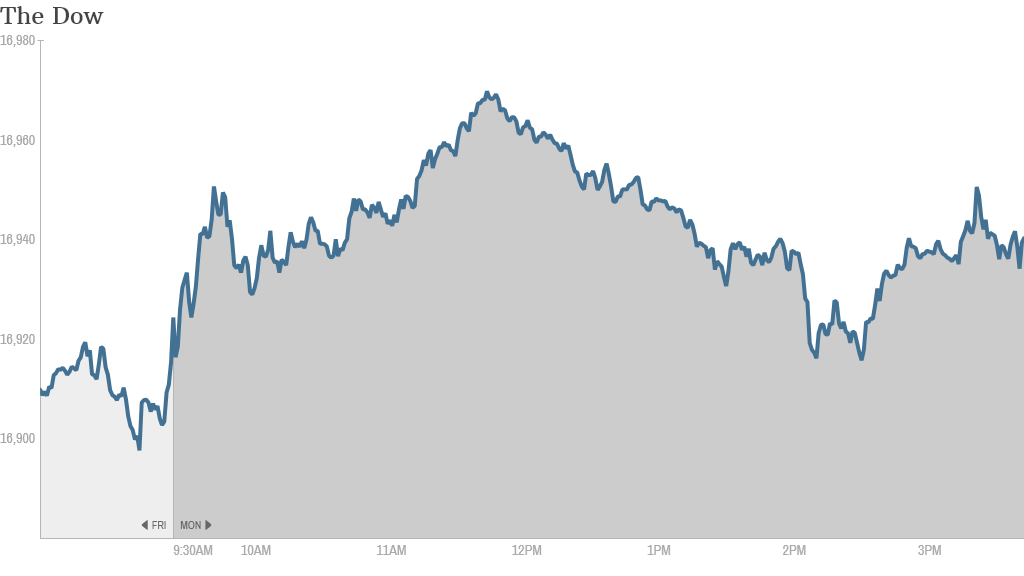 The good news for investors: Stocks finished Monday higher -- meaning new record closes for the Dow Jones Industrial Average and S&P 500.
But it was a glass half-empty kind of day: The gains were very modest with the Dow up just under 19 points (0.11%) and the S&P 500 a mere 0.09%. The Nasdaq finished the session 0.3% higher.
While stocks are climbing to new highs, volatility -- or "fear" -- in the market is back at the lowest levels since 2007. The Chicago Board Options Exchange's VIX index fell below 11 Friday for the first time since before the financial crisis. It crept back above 11 today.
Related: Calm before the storm? Volatility at a seven-year low.
Here are the top stories from the stock market today:
1. Deals, deals, deals in pharma and meats: Merck announced earlier this morning that it was going to acquire Idenix Pharmaceuticals (IDIX), a hepatitis C drug producer for $24.50 a share (a deal worth nearly $4 billion). Merck (MRK) shares closed essentially flat while Idenix stock jumped an eye-popping 229%.
Achillion Pharmaceuticals (ACHN), another hepatitis C drug manufacturer, ended the day up 47.6% higher, suggesting it might soon become another M&A target. Gilead Sciences, which makes almost half its revenue from hepatitis C drug Sovaldi, closed about 4% lower. One in 100 Americans have chronic hep C infections, according to the Centers for Disease Control.
"$IDIX Looks like $MRK is trying to cash in on Hep C," wrote StockTwits user joecooltrader.
In other merger news, Tyson Foods (TSN) announced its plans to acquire Hillshire Brands (HSH) for $63 a share, ending its bidding war with Pilgrim's Pride (PPC) for the maker of brands like Jimmy Dean and Hillshire Farm.
Tyson and Pilgrim's Pride stock both finished down more than 6.5%, and Hillshire stock ended the session up 5.3%.
Related: Tyson ups bid for Hillshire, rival drops out
2. Hot money around Family Dollar, Dollar General: Famous hedge fund manager Carl Icahn, of Icahn Enterprises, announced a 9.3% stake in Family Dollar (FDO) on Friday after the bell. Now the whole discount retail sector is drawing excitement.
Related: Not cheap: Family Dollar stock spikes
In response to Icahn's purchases, Family Dollar's board announced this morning a "shareholder rights plan" aimed at preventing a hostile takeover and contingent on someone buying a 10% or greater stake in the company.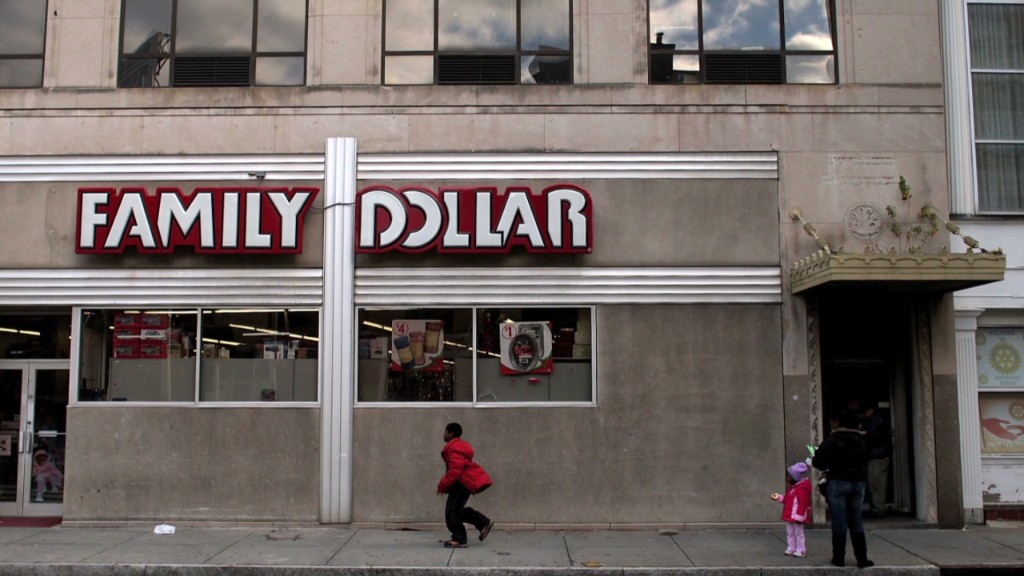 Family Dollar shares closed 13.4% higher. Rival retailer Dollar General (DG) was up over 7.3% as investors consider whether Icahn may push for the two companies to merge. Shares of Dollar Tree (DLTR) were flat after trading as high as 3% higher earlier in the day.
3. Stocks to watch: Apple, Time Inc., Keurig Green Mountain: Apple's 7-for-1 stock split is in effect today. The tech giant is issuing more shares to existing investors in order to bring down the price of the stock and bring in more retail investors. Apple (AAPL) stock closed at about $646 Friday, but started trading today at $92.70 this morning. Shares bounced around and finished just under 1.6%.
As a 74-year-old investor who bought more Apple shares today told CNNMoney, "Everyone in my family owns at least one Apple thing."
Related: Apple fans tell us they're loving the cheaper share price
Time Inc. (TIME), the magazine publisher of Time, Fortune, Sports Illustrated and other titles, began its first day of trading after being spun-off of CNNMoney parent TimeWarner (TIME WA). Shares closed down less than 1% after falling as much as 5%.
After a surge in late trading on Friday, K-Cup coffee company Keurig Green Mountain (GMCR) finished 6.5% lower, giving almost all of those gains on lower volume.
"$GMCR Today is the bad hangover after the party," wrote StockTwits user ajohnke.
4. International stocks: European markets finished slightly higher, with the FTSE 100 closing up around a quarter of a percent.
Asian markets all ended with gains. The Nikkei in Japan rose by 0.3% after official GDP figures for the first quarter were revised to show the economy grew at a stronger than expected rate of 1.6% compared to the last quarter of 2013. The previous estimate for GDP growth was 1.5%.