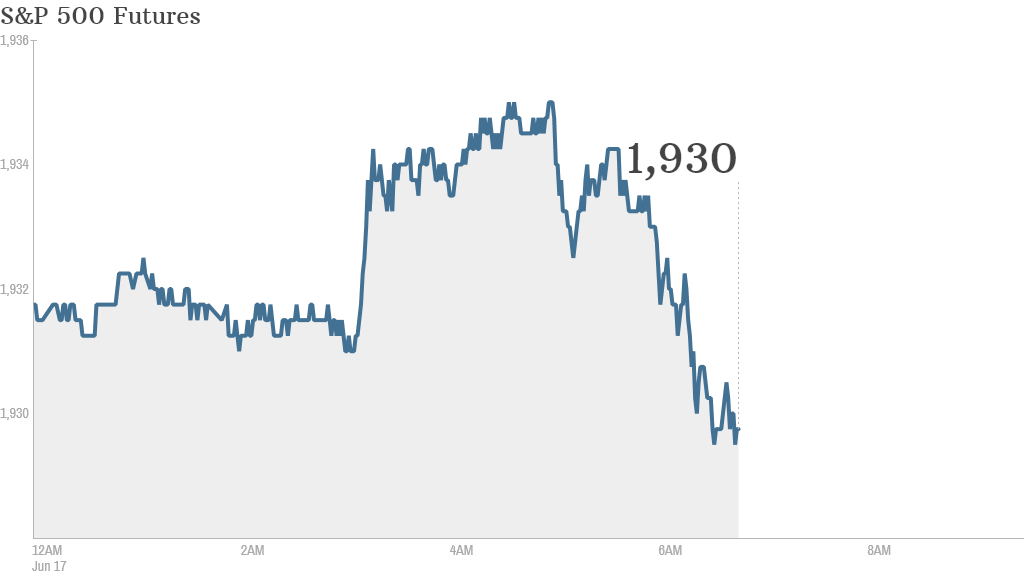 The markets are back in risk-on mode.
Here are the four things you need to know before the opening bell rings in New York:
1. Markets look poised for gains: U.S. stock futures were in positive territory, European markets were rising and the latest reading on the CNNMoney Fear & Greed index shows investors are feeling extremely greedy.
Stock markets have been jostled over the last few days as investors worry about developments in Ukraine and Iraq. Now market players seem ready to put their fears behind them in the hopes that the situation in both countries will not deteriorate further.
Gold and oil prices were declining by nearly 1%.
Marc Chandler, strategist for Brown Brothers Harriman, said that a recent spike in oil prices was driven by "fear of disruption of supply, rather than actual disruption of supply. Also the Iraqi government is pushing back, so we might see a relaxation of pressures."
U.S. stocks closed modestly higher Monday. The Dow Jones industrial average and S&P 500 eked out gains, while the Nasdaq rose 0.2%.
Related: Fear & Greed Index still extremely greedy
2. Expecting earnings and economic announcements: The Census Bureau will release data on housing starts and building permits for May at 8:30 a.m. ET.
At the same time, the Bureau of Labor Statistics will publish its consumer price index.
There are a handful of earnings coming out Tuesday. Adobe Systems (ADBE) and La-Z-Boy (LZB) are the two main companies reporting their quarterly numbers after the close.
3. Stock market movers -- Yahoo, Medtronic, GE, Alstom, Siemens: Shares in Yahoo (YHOO) remained under pressure ahead of the open after Alibaba -- which is partially owned by Yahoo -- reported slowing growth.
Medtronic (MDT) stock was rising by more than 2%. The company said this week that it was buying rival Covidien (COV) for $42.9 billion in a deal that could reduce the firm's tax payments.
It's also worth watching movements in General Electric (GE), Alstom (ALSMY) and Siemens (SIEGY). American conglomerate GE is looking to take over a large business unit from the French firm Alstom, but it's facing a competing bid from Germany's Siemens. Shares in Alstom were down by just over 1% in Europe.
4. Japanese markets jump: The Nikkei in Tokyo gained 0.3% after the government released an outline for the next phase of Abenomics, which is designed to boost the nation's economy.