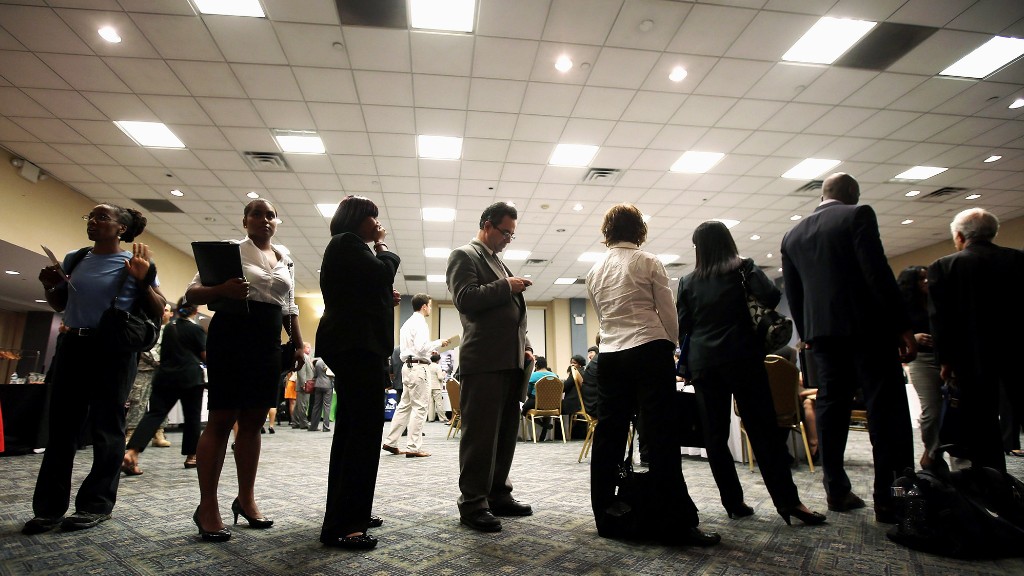 After a record-breaking start to the week for markets, it's been reasonably quiet. Friday could see more fireworks as the U.S. Labor Department publishes its highly anticipated jobs report.
Here are the four things you need to know before the opening bell rings in New York:
1. Jobs report: The Labor Department is posting its monthly jobs report at 8:30 a.m. ET.
Economists surveyed by CNNMoney predict that 235,000 jobs were created in February, down from 257,000 the month before. They are expecting the unemployment rate to edge down to 5.6% from 5.7% in January.
While the U.S. economy is creating more jobs overall, there's concern about the energy sector. Companies have been slashing jobs as oil prices have fallen.
Another key number to watch Friday is average hourly wage growth. In January, American wages were only going up 2.2% annually -- far below the goal of 3.5%.
2. Placid markets: U.S. stock futures are relatively flat, which is normal ahead of the jobs report.
European markets are mixed in early trading. Asian markets also ended with mixed results. The biggest mover was the Nikkei in Japan, which jumped 1.2%.
On Thursday, the Dow Jones industrial average gained 39 points, while the S&P 500 rose 0.1% and the Nasdaq added 0.3%.
Related: Three reasons to cheer Europe's economy
3. Stock market movers -- Bank of America, Thomas Cook: Share in Bank of America (BAC) are edging up premarket after the Federal Reserve gave the bank, and 30 other major players, a clean bill of health following its latest stress tests. It's worth keeping an eye on other bank stocks, particularly Citigroup (C), which may now be able to hike its dividend and launch a share buyback.
Shares in travel company Thomas Cook (TCKGY) are surging in London by about 16% after China's Fosun International (FOSUF) announced it had bought a 5% stake in the firm, worth about £92 million ($140 million).
4. Earnings and economics: Staples (SPLS), Big Lots (BIG) and Foot Locker (FL) are reporting ahead of the open.