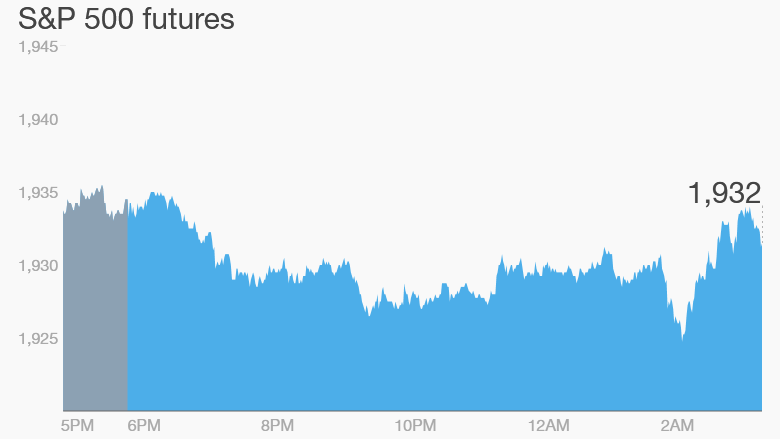 A negative mood has taken hold as crude oil prices slip back below $33 per barrel.
Here are the six things you need to know before the opening bell rings in New York:
1. Market overview: U.S. stock futures are languishing in the red following a sharp market surge on Monday.
Traders are taking their cue from the oil market, where crude futures are dipping by about 2%. Stock market moves have been heavily correlated with oil prices over the past few months.
Most European markets are in the red in early trading, though the losses are relatively muted.
Germany's DAX is suffering more than most after the Ifo business sentiment index in Europe's biggest economy fell to its lowest level in over a year. The majority of companies are pessimistic about their business outlook for the first time in six months.
In Asia, most key stock markets ended with small losses.
2. All eyes on the oil minister: Saudi Arabia's oil minister Ali al-Naimi will be making a speech in Houston on Tuesday morning. Saudi Arabia is the world's biggest oil exporter, and agreed last week with Russia to freeze output at January levels, provided other major producers do the same.
Nobody else has signed up yet, and traders will be monitoring his speech, which is due to start at 8:50 a.m. ET.
3. Market movers -- Fitbit, Valeant and more: Shares in Fitbit (FIT) are crashing premarket. The company reported better-than-expected results over the holiday season, but investors seem to be deeply disappointed with the company's business forecasts.
Shares in Valeant Pharmaceuticals (VRX) took a big hit overnight as the company announced it will have to restate financial results from 2014 and 2015. The company said roughly $58 million in revenue was improperly recorded in 2014 and should have been reported last year.
Valeant stock has been struggling since October when a short-selling firm accused the company of massive fraud. Federal prosecutors are investigating the way it prices and distributes drugs.
Shares in United Technologies (UTX) jumped in extended trading after the company confirmed it had been talking with Honeywell (HON) about a potential merger, but the talks were halted due to "regulatory obstacles, customer concerns and valuation issues."
And Standard Chartered (SCBFF) shares are declining in London after the global bank reported a loss for the year. The bank's CEO admitted the results were "poor" and its shares are leading the FTSE 100 index lower.
4. Earnings: Home Depot (HD), Office Depot (ODP) and Macy's (M) are some of the key companies reporting earnings before trading begins.
DreamWorks Animation (DWA) and Etsy (ETSY) are among the main firms reporting after the close.
5. Economics: A number of important economic reports will be coming out Tuesday.
The latest monthly Case-Shiller housing index will come out at 9 a.m., giving Wall Street an overview about the health of the U.S. housing market at the end of 2015. Further January home sales data will be released at 10 a.m. by the U.S. National Association of Realtors.
Also at 10 a.m., the U.S. Conference Board will release its February consumer confidence data.
6. Market recap: Monday was a strong day on Wall Street. The Dow Jones industrial average jumped 1.4%, the S&P 500 rose 1.2% and the Nasdaq rallied by 1.1%.