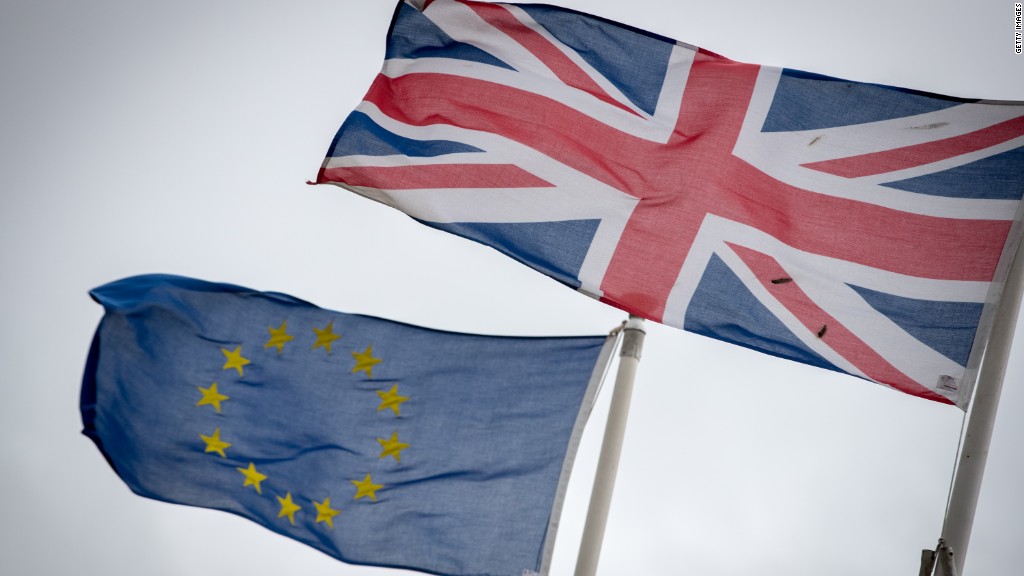 Can Wall Street breathe again after the Brexit rout?
After two days of brutal losses triggered by the U.K.'s vote to leave the European Union, European markets opened higher Tuesday. London's FTSE 100 is trading around 2% higher, but still 3.6% down on Thursday's close.
U.S. stock futures are also firming, suggesting markets could open about 1% higher.
But analysts are warning not to be too cheerful about the modest gains.
"Markets are bouncing, and can bounce further but the clouds on the horizon are dark, and they're real," said Kit Juckes, strategist at Societe General.
Standard & Poor's downgraded the U.K. by two notches to AA on Monday, stripping the economy of its one remaining perfect triple A rating. Fitch also cut its rating by a notch to AA.
The pound is trading 0.8% higher against the dollar early on Tuesday, at $1.33. That's still 11% off the peak of $1.50 it hit just before the Brexit vote was declared.
"Hardly anything to shout about given the extent of recent moves," said Simon Smith, chief economist at FXPro.
Related: Brexit's broken promises
There's still huge uncertainty about how Brexit will play out for the U.K. and the knock-on effect for Europe.
British Prime Minister David Cameron, who resigned Friday but is staying on as caretaker leader over the summer, is heading to Brussels Tuesday to face the other 27 EU leaders for the first time since the referendum.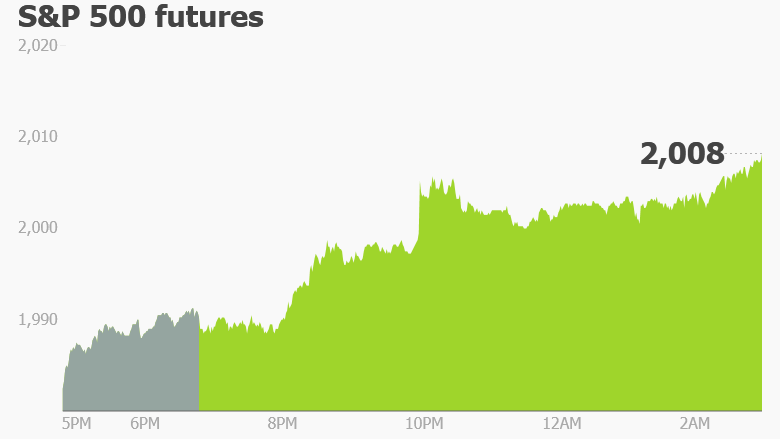 Cameron has said he won't trigger exit negotiations -- leaving that decision to his successor who is expected to be in place by the start of September. But some EU leaders want the U.K. to move faster, and have made clear that informal talks won't happen until it has started the official process.
"We cannot start some sort of informal talks without having received the notice from Great Britain. This is very clear to me," German Chancellor Angela Merkel told reporters on Monday.
Global markets lost $3 trillion on Friday and Monday, the worst two-day rout on record. Major banking stocks have been particularly hard hit, and they're among the biggest winners in premarket trading Tuesday.
Bank of America (BAC) is up 2% in premarket trading and JPMorgan Chase (JPM) is up 1%.
Banks in the U.K. are also higher. Barclays (BCS) is up 6% after losing 32% since Thursday, while RBS (RBS) is up 2.8% after plunging a combined 31% on Friday and Monday.
Shares in European airline Ryanair (RYAAY) are up 2.8% premarket.
Related: Asian stocks struggle to shrug off Brexit gloom
Investors may also be looking elsewhere for inspiration on Tuesday. Carnival (CCL) is reporting earnings before the opening bell. Analysts are hoping the cruise operator will post strong results, capitalizing on the lower cost of fuel. Shares in Carnival climbed 1.6% premarket. Nike (NKE) will report earnings after the close.
There's some economic data too: The third estimate of first quarter U.S. GDP is expected at 8:30 a.m. ET, followed by consumer confidence data at 10 a.m. ET.
Earlier, Asian markets struggled to shrug off the Brexit gloom and ended the session flat, Japan's Nikkei closed 0.1% higher, while Hong Kong's Hang Seng was 0.3% down.
U.S. oil futures are trading 2% higher at per barrel.
The Dow Jones industrial average ended Monday down 1.5%, while the S&P 500 sunk 1.8% and the Nasdaq dropped 2.4%.