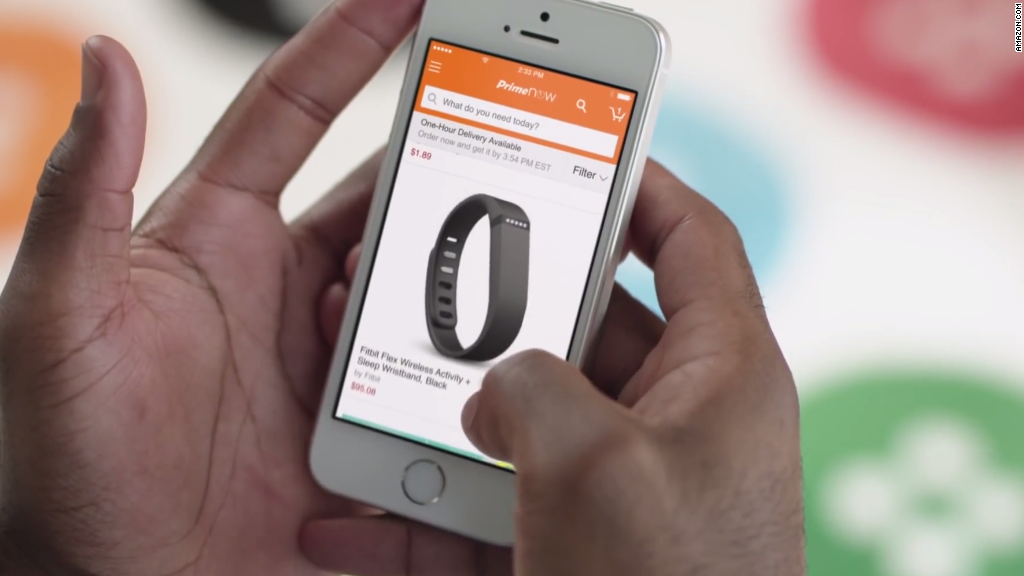 Get ready for Prime Time!
U.S. stocks are in record territory and it's Amazon's (AMZN) "Prime Day," when the company offers shoppers thousands of special sales.
Here are the five things you need to know before the opening bell rings in New York:
1. It's high time: U.S. stock futures are rising again, indicating that we could see more records for stocks during the trading day.
The S&P 500 closed at an all-time high Monday, climbing 0.3% and ending the day just over 2,137 points. The index's previous record closing high was set in May 2015. The Dow Jones industrial average also rose 0.4% and it's now within spitting distance of record levels. The Nasdaq added 0.6%.
European markets are mostly rising in early trading, while Asian markets ended the day with gains.
2. A day for deals: Investors will be closely monitoring Amazon today as the online retailer is promising more than 100,000 deals during its second annual "Prime Day."
The sales are only available for customers with Amazon Prime memberships.
But there are plenty of potential pitfalls as well as bargains. Last year, shoppers were outraged when they found many deals were on small, undesirable items.
Amazon launched Prime Day last summer to celebrate 20 years in business. The inaugural event brought in record global sales.
Related: Amazon Prime now reaches nearly half of U.S. households
3. Celebrating May in July: U.K. investors continue to be cheered that the country is set to get a new prime minister, Theresa May, two months earlier than expected.
There had been concerns that Prime Minister David Cameron's resignation after the Brexit referendum would lead to months of uncertainty in the country. May has been a senior member of Cameron's government for six years. She'll take office on Wednesday.
Shares in large homebuilders are surging by 5% or more after falling sharply following the Brexit vote in late June.
The FTSE 100 index has rebounded by about 15% from its low posted just a few days after the Brexit vote.
Investors are also looking forward to hearing from the head of the Bank of England, Mark Carney. There are expectations that the central bank will cut interest rates on Thursday to support the U.K. economy as it prepares to leave the European Union.
4. Fed chatter: U.S. Federal Reserve officials Daniel Tarullo and James Bullard are set to make speeches on Tuesday.
"Investors will gauge where they stand with respect to a rate hike after a stellar U.S. [jobs report] number [from June]," explained Naeem Aslam, chief market analyst at Think Markets U.K.
5. Market mover - Shire: Shares in the drug company Shire (SHPG) are jumping in Europe after the U.S. Food and Drug Administration approved its special eye drops, called Xiidra.
Shares in Shire have surged by over 25% since the Brexit vote in the U.K. as investors have bought into so-called defensive stocks, including pharmaceuticals.