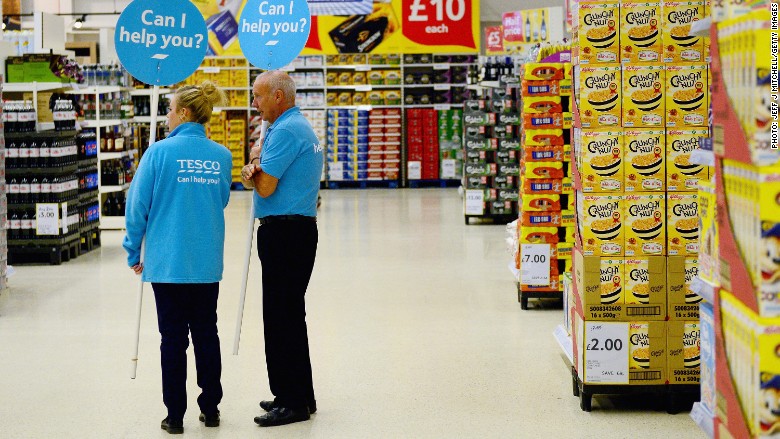 1. Brexit bites: The plunging pound is now wrecking havoc on British grocers.
Supermarket giant Tesco (TESO) has pulled Ben & Jerry's ice cream and Marmite spread from its online store amid a public dispute with Unilever (UL) over who should bear the burden of the weakening currency -- the supplier or consumers.
Shares in both companies were down more than 2% in early trading.
"Tesco may simply be trying to call Unilever's bluff over price hikes but markets are not impressed," Neil Wilson, market analyst at ETX, wrote in a research note.
2. China exports slide: Chinese exports unexpectedly fell 10% in September over the previous year, according to official data released Thursday.
The slide is much bigger than the 3% analysts anticipated and points to a further slowdown in China's economy.
"[The decline] does not only provide a warning signal that the world's second largest economy is losing momentum, but also suggests a fragile global demand," Hussein Sayed, chief market strategist at Forex Time, wrote in a note to clients.
3. Stumpf out: Wells Fargo CEO John Stumpf announced late Wednesday that he was retiring effective immediately. His departure comes after the bank was caught creating fake bank and credit card accounts.
Wells Fargo (WFC) stock jumped 2% in after-hours trading.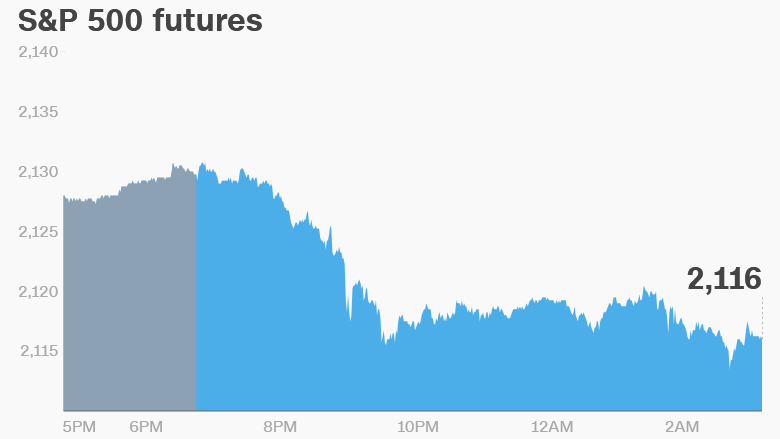 4. Market overview: It looks like markets are in for a rough day. U.S. stock futures are slipping around 0.6%.
Major European markets opened lower. It was the same story in Asia, where markets closed with losses.
The Dow Jones industrial average and S&P 500 gained 0.1% on Wednesday, while the Nasdaq shed 0.15%.
5. Stock market movers -- CSX, Alcoa: Metal manufacturer Alcoa (AA) is 2.6% down premarket after missing its earning forecast Tuesday.
Shares in transportation company CSX (CSX) were higher after posting better than expected results on Wednesday.
6. Earnings and economics: Delta Air Lines (DAL), Progressive (PGR) and Marriott Vacations (VAC) are set to release earnings before the open.
The U.S. Department of Labor will post weekly jobless claims data at 8:30 a.m. ET.
A report on crude Inventories will be issued at 11 a.m. U.S. crude futures slipped 1% to below $50 per barrel ahead of its release.
7. Coming this week:
Thursday - Crude inventories data, NABE debate
Friday - Bank earnings