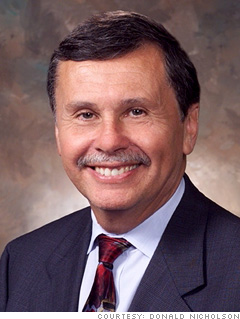 Donald W. Nicholson, Jr.
Wilmington, DE
One of our clients, who was with our firm since the 1970s, recently died. We handled all of his financial planning while he was living and are handling all of that now for the widow. But that's not how the relationship started.
My father made a house call to them one night in the evening. He rang their doorbell and the client answered the door. He introduced himself and said why he was there. The client's wife had made the appointment and he wasn't thrilled about it. The husband won't let my father in. Just imagine: he was 6'5" and maybe 250lbs and my father was 5'10" and 170lbs. But my father insisted that he was coming in to discuss how he could help them. Reluctantly, and at the insistence of his wife, the husband let my father in.
It led to a 30-year relationship that continues today with the widow. In the later years prior to his death, when we were getting his estate planning and finances in order, my father would give him grief for their initial encounter.
NEXT: Extreme makeover
Last updated June 11 2008: 7:16 AM ET
Email
|
Print
|

Digg this story
|
RSS