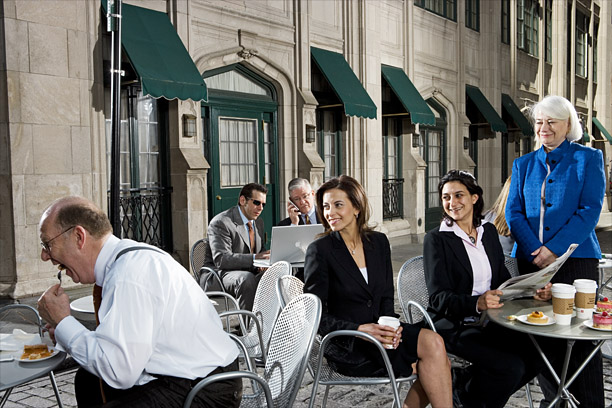 The mentored:
Maali Qasem, Managing Partner, Schema, Jordan
The mentors:
: Dina Powell, Managing Director, Goldman Sachs; Edith Hunt, Co-COO of Human Capital, Goldman Sachs
Maali Qasem (center), a 29-year-old Jordanian lawyer who advises companies on corporate-governance and social-responsibility strategies, spent three weeks with Goldman Sachs's Dina Powell (left) and Edith Hunt (right)learning about the Wall Street firm and the American workplace.
What's next for Qasem:
Back home she's leading projects aimed at improving communication in the public sector and creating safe forums for individuals to voice their concerns and needs. Ultimately she hopes her work will help ensure the development of an efficient legal system and improve transparency throughout the Middle East and North Africa.
What Powell learned from Qasem:
"We're incorporating her feedback on social networking and online communities in our corporate engagement initiatives."
Hunt's takeaway:
"Even though I've traveled broadly and manage a global enterprise, I realize that I'm still rather U.S.-focused in my thinking. I'll adjust my lens."
Photographed on Stone Street in Lower Manhattan, near Goldman Sachs's headquarters
Last updated July 11 2008: 2:26 PM ET
Email
|
Print
|

Digg this story
|
RSS