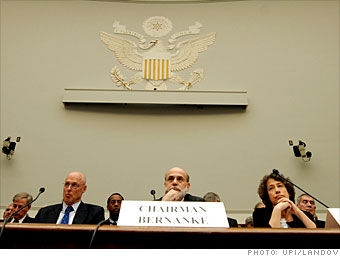 Paulson (left) and Federal Reserve Chairman Ben Bernanke and Federal Deposit Insurance Corporation Chairman Sheila Bair testify in a congressional hearing Nov. 18.
Last fall, Treasury Secretary Hank Paulson announced a superfund in which banks would combine to buy securities from "structured investment vehicles" they had left off their balance sheets. Amid a lack of interest, the superfund was canceled. Next came the $700 billion Troubled Asset Relief Program, which has now decided not to buy troubled assets. Hello?
Spiking the superfund and not buying troubled assets seem like the right things to do. They're on the turkey list because the government insisted it needed them to save the world, then walked away. That undermines public confidence, the most important asset the government has.
NEXT: Zell buys Tribune
Last updated November 24 2008: 9:44 AM ET
Email
|
Print
|

Digg this story
|
RSS