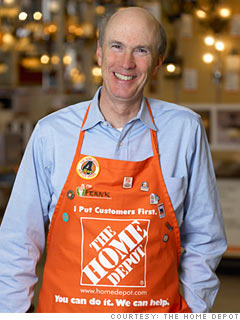 Home Depot CEO Frank Blake
Communicate like crazy, balancing realism and optimism.
The instinct of most executives is to hunker down in uncertain times, keeping quiet until they believe they have some answers. That's the opposite of what's needed. In a recession all of a company's constituencies are nervous: Employees are worried that they'll be fired, suppliers that they won't be paid, customers that quality will decline or prices rise, investors that the stock will tank, communities that operations will close down. Your silence just makes them worry more.
Good managers respond by communicating even more than usual. They find that they needn't have all the answers, but they do need to say what they're thinking and be honest about conditions. Julia Stewart, CEO of DineEquity, parent of the Applebee's and IHOP restaurant chains, says, "It's important to assure your employees by making clear your vision, making sure they know that you care, and making sure that you're direct and honest. They just want the truth."
Even when the news isn't good - which it usually isn't - effective leaders find ways to keep hope alive. Home Depot chief Frank Blake cites an observation by Colin Powell: "Optimism is a force multiplier." Conditions are especially brutal for Home Depot, and last year Blake closed 15 U.S. stores and cancelled 50 on the drawing board. But he reminds everyone that the company is around for the long haul and intends to stay strong. John Hammergren, CEO of the giant pharmaceutical distributor McKesson, has been holding employee town halls, where his goal is "to give confidence that we're in a great industry, and McKesson is in a leadership position." Every good company has upbeat facts, even in a recession, and they need to be repeated.
Last updated January 08 2009: 9:17 AM ET
Email
|
Print
|

Digg this story
|
RSS