In honor of the debut of the third season of 'Mad Men' on AMC, Fortune looks back at the real life ad giants who defined their decades and swayed the masses.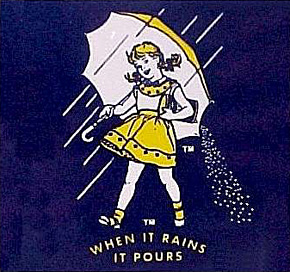 Morton Salt's iconic logo, created in 1912
With $250, the Philadelphian founded the first U.S. ad agency, N.W. Ayer & Son (named after his father), in 1869.
He changed the business by implementing the open contract, which allowed an agency to work exclusively for a client. Before that, ad firms bought space in a magazine or newspaper for the cheapest price possible and then marked up the price to sell to advertisers.
Ayer's company went on to create some of the world's best-known slogans, including "When it rains, it pours" for Morton Salt in 1912, "I'd walk a mile for a Camel" in 1921, and "A Diamond is Forever" for DeBeers in 1948.
NEXT: James Walter Thompson