Fortune takes a look back at our '40 under 40' of a decade ago to find out who's still flying high, and who's fallen from grace.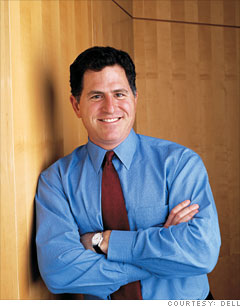 Age: 43
Last list appearance: 2004
Then: Founder and CEO, Dell
Now: Founder and CEO, Dell
Talk about a reigning champ: Fortune's original "40 under 40" list was a ranking of net worth, and Dell took the top spot each of the six years we ran the list. Dell, whose eponymous PC firm became the no. 1 PC company in the U.S. in 1999, was worth an estimated $21.49 billion then.
Today? His net worth is just half that -- with the PC maker having lost share to rivals like Hewlett-Packard and innovative Apple. (Dell has always been notoriously slow on the product development front.) But that's not to say Dell and his company have lost all their glory: The firm still has 14% of the worldwide PC market, trailing only HP. And with the recent announcement that Dell will be entering the smartphone market, the company could be getting the restart it needs.
NEXT: Will Smith