Meet business's hottest young rising stars. They're innovators, value creators, and agents of change.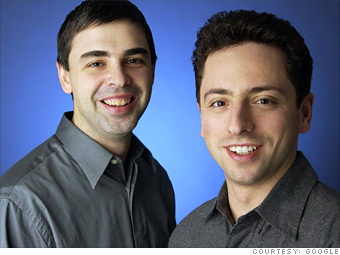 Co-Founders, Google

Ages: Both are 36
Marital status: Both are married
Highest Education: Both have master's degrees
Yes, they're
still
under 40 -- and worth some $14 billion each. But this year has brought fresh challenges for the Mountain View monolith: antitrust investigations, growing concern over privacy and copyright issues, and a decline in ad revenue that led it to lay off hundreds of Googlers and thousands of contract workers.
Still, the company famously founded by the Russian-born Brin and Michigan-born Page in a Stanford dorm room is now a giant with a market value of $174 billion, fast expanding into new categories like mobile devices and software applications.

Close quarters: Brin and Page still share an office.

NEXT: Mark Zuckerberg

Last updated March 26 2010: 10:26 AM ET
Note: To be eligible for Fortune's 40 under 40, candidates had to be 39 or younger on Nov. 1, 2009.
List compiled by Alyssa Abkowitz, Maha Atal, Katie Benner, Scott Cendrowski, Lawrence Delevigne, Telis Demos, Jessi Hempel, Suzanne Kapner, Mina Kimes, Beth Kowitt, Jessica Shambora, Richard Siklos, Kim Thai, Christopher Tkaczyk and Jia Lynn Yang. Research by Marilyn Adamo and Doris Burke.