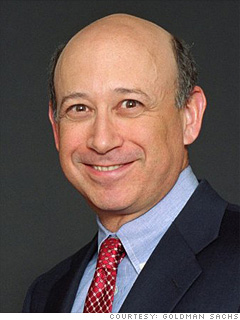 Chairman and CEO, Goldman Sachs
Goldman's success amidst widespread financial hardship hasn't won its CEO many fans.
Internet chatter gave Blankfein a 53% positive rating, no doubt influenced by the rage of a
Rolling Stone
writer who, in an oft-repeated quote, called Goldman "a vampire squid wrapped around the face of humanity."
Blankfein only made things worse for himself when he told a reporter in November that he was just a banker "doing God's work."
Days later he insisted the statement was meant as a joke, but a $500 million pledge to support small businesses showed he realized Goldman's image problem was no laughing matter.
More galleries
Last updated December 30 2009: 2:06 PM ET
How it was done: Zeta's technology mines the online media landscape -- including millions of blogs, message boards, and social media posts -- and then uses algorithms to measure both the volume and tone of conversations about a given subject -- in this case, the CEOs of Fortune 500 companies. Rankings are based on the percentage of total chatter about a given CEO that is qualified as positive.