In a soaring market, the stocks of many companies in the Fortune 500 posted strong returns in 2009. But the 20 that follow rewarded shareholders the most. Will they keep rising?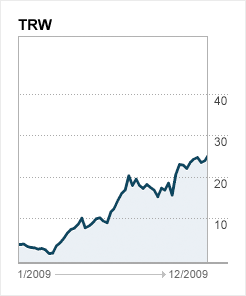 2009 revenue: $11.6 billion
2009 total shareholder return: 563.3%
The auto-parts supplier made a surprising turnaround, defying fears earlier in the year that it would collapse amid the car industry's downturn.
Thanks to a strong rebound in auto sales, the maker of brake, steering, and electronic components ended 2009 with a 20% jump in revenues. And TRW's ride may continue, owing to its reduced cost structure and rising sales.
NEXT: 2. Tenneco
Last updated April 15 2010: 7:07 AM ET
List excludes companies whose stocks fell below $1 during 2009.