Considering the implosion of the housing market, it's no surprise that Fannie Mae and Freddie Mac top the Fortune 500's list of red ink spillers.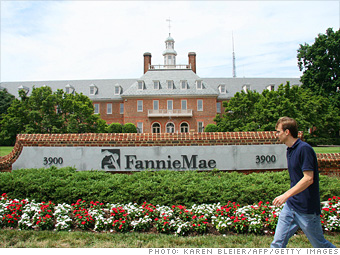 2009 loss: $72.0 billion
The mortgage giant was one of the first big financial institutions to receive government aid during the financial crisis, and it may well be the last to dig itself out. As the middleman between mortgage lenders and investors, Fannie got pummeled by defaults and has now received massive amounts of monetary backing as the government tries to strengthen the housing market.
Government-controlled Fannie has said not to expect a turnaround anytime soon. Its biggest hit in 2009 came from credit-related losses on record mortgage delinquencies amid high unemployment. It also took about a $5 billion write down on low-income tax-credit investments that the government wouldn't let the company sell.
NEXT: 2. Freddie Mac