We talked to money managers with gold-standard track records and asked them each for their single best stock pick.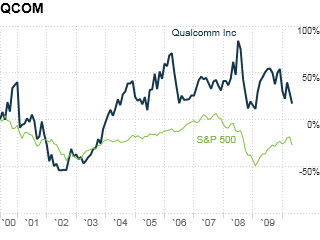 Ticker: QCOM
Todd Alhsten
Parnassus Equity Income
Todd Ahlsten's $3 billion Parnassus Equity Income Fund has returned 5.5% annually over the past decade, trouncing the S&P 500's 0.5% yearly decline in that time.
Ahlsten looks for four qualities in stocks: long-term relevance, a competitive edge, strong management, and potential double-digit returns. Right now he thinks Qualcomm meets all four. The company licenses technology that enables smartphones to connect to 3G and 4G networks. As demand for the devices increases, Ahlsten says, Qualcomm will reap the benefits.
"They have myriad patents locking up the technology way out into the future," Ahlsten says. "We see long-term, solid returns." The stock is trading near its 52-week bottom, in part because phone prices are falling, but Ahlsten thinks investors overestimate future price cuts.
--Mina Kimes

NEXT: Hartford Financial Serv. Group Pref. conv. shares

Last updated June 18 2010: 12:58 PM ET