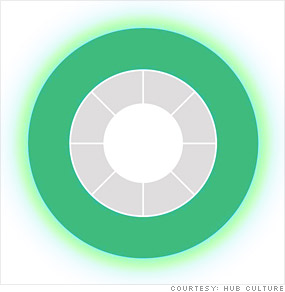 In the digital age, it seems that so-called social currencies have naturally followed social networking circles. Ven, developed in 2007 by a group called Hub Culture, is used among a global network of mostly business jet-setters (although Hub Culture says membership is not necessarily restricted to corporate executives, but also the highly mobile). Unlike most other alternative currencies, Ven's value fluctuates depending on the values of a basket of international currencies, commodities and carbon futures. At today's exchange rate, $1 could buy approximately 10 Ven.
The currency is not tangible. Think of Ven as almost an accounting book. Rather than the physical exchange of money between buyer and seller during a transaction, it is instead logged and recorded into a virtual account of sorts. Hub Culture's approximately 20,000 global members buy, sell and trade through the Ven not only goods and services (ranging in everything from private jet services to a bottle of juice), but it also offers what the organization calls `knowledge' -- such as members' skills in copywriting, media consulting and such.
More than 1.2 million units of Ven circulate the globe today. Although membership is free, it appears quite exclusive as it is by invitation only. And though it's not required, virtually all members use one of Hub Culture's pavilions around the globe (used as everything from workspaces to private party venues), which range from $65 to $1,000 a month.
NEXT: BerkShares
Last updated July 21 2010: 1:00 PM ET